That's correct, P305. I had never seen one before. Cool grip.
I was trying to figure out when this pencil was released. The Q1005-9 was released in 2013. Was the Q1005-9LF a 2013 release as well?
Thanks for putting this list together
Unsure as to the release of Q1005-9LF but would imagine it came later. I was able to find a set of Q1005-5LF through -10LF rather easily but am not seeing the Q1005-9 for sale right now. Early on the color combos seemed far simpler (all one color with black buns and accoutrements). I am excited that they are branching out and adding more colors to more parts of the pencil.
There are 3 different iterations of the Q1005-5,6,7,8,9. The first released was labeled simply Q1005-5 etc. The second released was a reprint commissioned by Loft with the same JAN numbers as the original, the only difference being the -LF added to the nomenclature , i.e. Q1005-7LF. Both of these sets have JAN numbers beginning with 8848510xxxxx . The third set was also a reprint commissioned by LOFT but had a new JAN number, beginning with 4573154xxxxx and the nomenclature was the same as the second set, but with the addition of the LOFT logo just to right of the -LF. The first were produced in
2013, the second set in 2016, and unsure about the 3rd release.
Hey Brian, Good luck procuring the original Q1005-5-6-7-8-9, I have not seen a single one for sale in 5 years. I've had much luck finding the much older Q1005-2-3-4, but the 5-6-7-8-9 has completely eluded me.
I have the original set, but sadly back then, I was a sticker peeler. If I see them with stickers, I will purchase them again.
New limited edition color, made by a Japanese stationery youtuber. Apparently it will be available via amazon.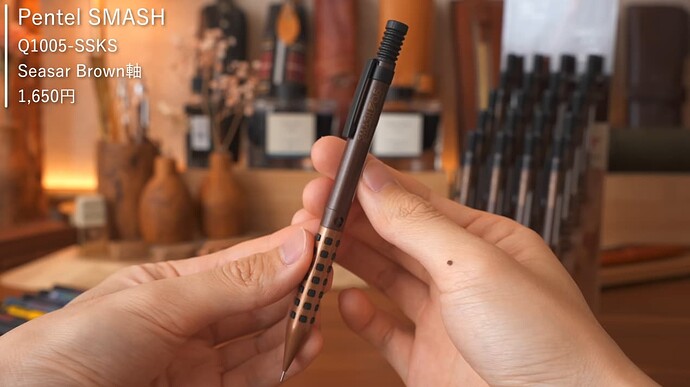 These are on Rakuten right now.
My bad, I checked it after it posted and was working. Maybe sold out? It's the same as what @atxalais posted.
That's such a good picture with all the Smash being solid colors and all.
It worked on subsequent clicks
The Shisa Brown Smash is all over Mercari now. Not tooooooo bad of a markup.
It's on Yahoo Shopping for ¥1650
3日以内に注文した方がいます means that someone has ordered the product in the last 3 days.
To be honest I don't expect this to be a super limited release, but maybe I'm wrong. Considering that it was sold via all online retailers and in most big stationery stores countrywide, there should be plenty of it so there should be no need to overpay on mercari. But again, maybe I'm wrong.
Most all of the "KS" Kitera Shouji Smashes are still available, Rakuten and Yahoo Shopping have many. The 'KS's seem to be large orders. Sometimes, though, you'll see one cheaper than the initial offering price.