I'll be receiving a couple of packages throughout this week. Going to share pics of them.
Today's package: a box of Pilot HH-100R-B (aka the H-1005). It comes with various instruction pamphlets. This box is not the same as this reddit user's post, we so happen to have the same box with the same amount of pencils. Coincidence?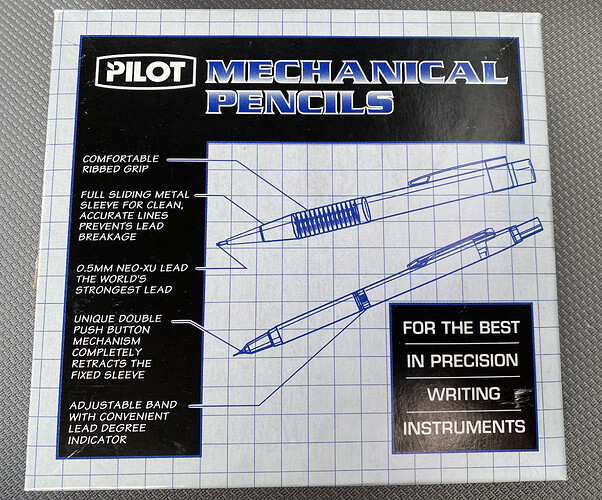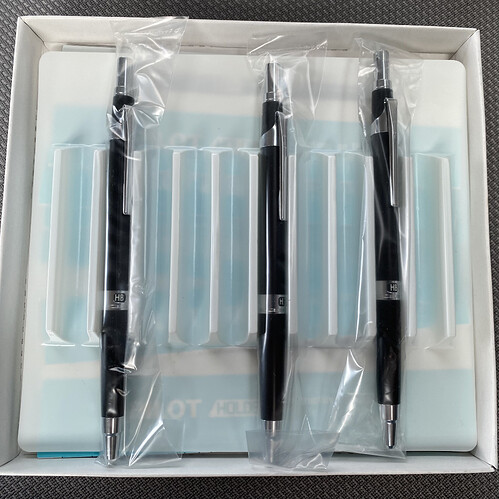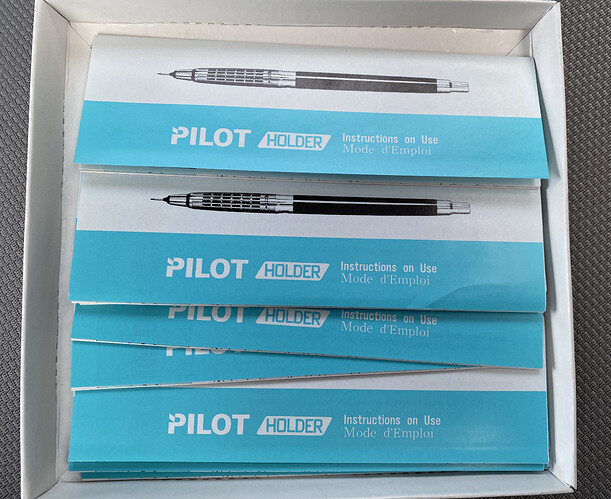 Really cool. I assume this one was always intended for international release (specifically in America).
I don't know if you have one of these instruction pamphlets already in your collection.
If you don't (I knowing you're a big fan of Pilot Double Knocks), would you like one?
Nice grab on that. Was it a full box, or just 3 of the H-1005?
Looks like the full 10 count of the pamphlets were tucked inside, underneath the plastic holder.
That's very generous! I don't think I need the pamphlet, but I'd love to see some scans uploaded to Knockology (probably in the Catalogs area).
Box came with three. The person I bought it from was selling the individual pencils and I guess didn't give out the pamphlets for each pencil sold.
I got the Japanese & this English version, will upload both in a couple of hours.

The overseas packaging for PILOT is a whole 'nother world to explore…
Today's parcel from Japan arrived. Glad to have myself a display case. =)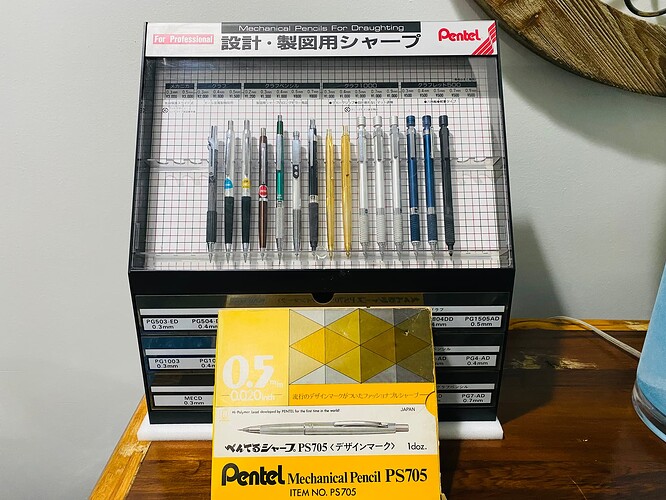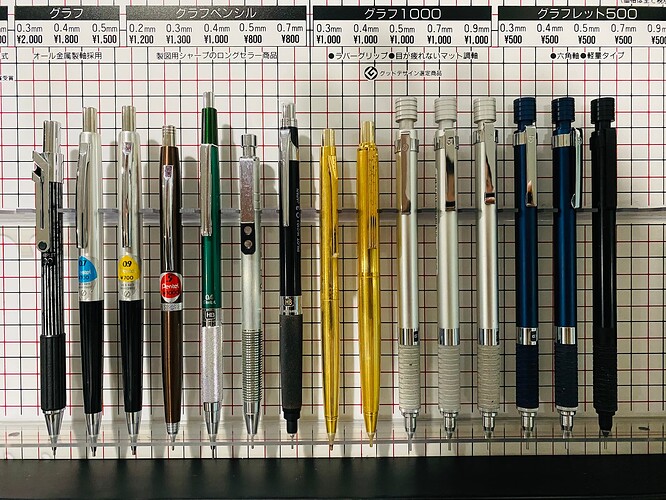 Left to right:
Pentel:
Q545 Sharplet 500
S57
S59 (Chris' favorite)
SG45
PG1804
PN3015
PS705 (Box)
Pilot:
Staedtler:
The case looks great! Glad it got delivered in one piece. Bet it wasn't cheap to ship out here.
Too many people sleeping on the Sharplet Q545 and Q555. Those are some champion pieces. Some of my favorites.
Yes, glad it didn't arrive broken. I got the Q545 at a great price too: ¥500.
That looks like it might be a perfect size, do you mind sharing the dimensions?
Here you go:
L: 13 1/2 inches
W: 7 3/8 inches
H: 14 1/2 inches
Hey, are the s57 and S59 YAJ finds?
The two came from a Mercari seller.
Cool, Do you know if they had more in stock? I would love to grab one of each.
I do not think the seller has anymore. Your best bet would be to check YAJ/Mericari every so often.

Absolutely love the gold Pilots and that H-2103
Also, jealous of your Pentel display stand! I think I need one of these on top of The Toolbox™.