When were the Monotech 500 and Monotech 1000 sold? Were they available worldwide or only in Japan?
This is awesome
Thank you
Maybe I'm missing something?
I've scrolled through this end to end twice but have see a monotech 500 or 1000
Ahhh, the best mechanical pencil ever made. The only one ive bought multiples of so ill always have one to use.
I hope Tombow keeps this resource available. It's a very visual tool. I have never tried using search on it. Depending on how familiar you are with the line up, it is very much a tool for discovery. I'm still finding cool stuff on it now and then.
Maybe we should try to make an offline copy.
It's very informative. Unfortunately I'm experiencing it on my phone. I really need some time with a larger display.
I've been through it several times and still have not seen the 500. Have you?
Im struggling using it on my phone as well. Crash after crash. Might need to buy something other than MPs this week

I couldnt even find the dimple pro 1000…?
The .4mm from the 1000 series is slightly rare and costs about 14-20k yen. Others including the 500 series pop up on mercari very frequently under 5k.
Personal Project: to extract all the info and resources and reformat into a simpler document.
The Monotech 500 does not appear in the timeline.
But this has gotta be a late 80s/early 90s pencil.
Thank you for confirming that. I spent a few hours running things through Google translate, thinking I may have missed something.
I found this site the other day doing a Google image search.
It shows a 500 and a 1000.
I think it's from Thailand? Anybody speak Thai?
Maybe there is a date buried somewhere…
https://v1.easternpioneer.com/html/newtombow12.htm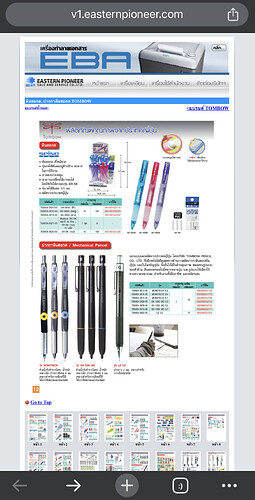 Maybe Thai, maybe not? To be honest, my only exposure to the Thai language is basically on the back of a menu

Yes it is Thai. Their local Tombow distributor was still listing models like the Trad a few years ago…
Regarding the 'missing' Monotech 500 series, I suppose timelines like this are subject to what a company considers important.
As far as I know, I haven't seen any references for the MT500 prior to 1990. For example, the partial scans of the 1988 catalog only show the Variable, 300LZ, 500LG and Dimple Pros. So it's a safe bet that the MT500 came out around 1990 along with the 1000 series.
Fantastic dynamic history display for TOMBOW!
I didn't realize just how rich the history of this company has been.
NOTE, if you hover over the timeline bar at the bottom (using a notebook / laptop – not sure it would work on a phone), you'll see various periods highlighted:
Chapter I: 1913-1945 - Founding of TOMBOW Pencil
Chapter II: 1946-1966 - Progress to become a comprehensive writing instrument manufacturer
Chapter III: 1967-1986 - From writing instrument manufacturer to stationery manufacturer
Chapter IV: 1987-2002 - Tape stationery opens up a new market
Chapter V: 2003-2013 - 100th anniversary and becoming a global company
I didn't realize the ZOOM 707 was designed in 1987. Still in production, it seems.

Notable quote: "The knock part and clip ball also have a charming design that keeps you entertained."

The "egg shaped" ZOOM 808. What I call Mr. Stubby.

Notable quote: "The rounded form that makes you smile has a mysterious charm that stimulates creativity that is unique to ZOOM."
The La Nave series:

Not sure which one is supposed to be "wheat."
Finally figured out what "TRAD" means:


Wheat is españa (there is a wheat logo on it).