Hello all!
This is my first post so please be gentle.
I stumbled upon this site thanks to a long-time (fountain pen and) pencil collector I've known for years. And I've had some interaction with Cytherian and 2nd_Astronaut via DMP (you know if you know) and a post started there by "Pencil Paul" way back in 2012. In that post, Pencil Paul gave his opinion of the "Magnificent Seven". That started a quest, which I finally achieved over two years later.
But I started collecting mechanical pencils even further back, if memory serves ca. 1989 in the infancy of the internet. I somehow landed on a site with a set of Montblanc (I know not particularly revered here) Pix MPs in red, blue and green. (I now see that being such a new member I can only upload one image. These will have to wait until I achieve enough posts to be worthy.)
But many years later when I landed my first Tombow Zoom, the V472, from Studio La Nave I was on the hunt. Over ten years later I finally got my hands on the España. Granted, it's not a MP (that one eluded me last November at a price that was just too outrageous). The BP will have to suffice.
The Mano has both mechanisms. It came as a BP but I reached out to Tombow USA and the incredibly nice VP there was able to source a mechanical pencil insert in Europe and sent it to me. And gratis on top of it!
The V472s are amazing, both MP and BP.
The Oceanic was a gift from Dani Nebot, the designer. He even autographed the Tombow tin to me. Talk about above and beyond! And he has an amazing story behind the "hieroglyphics" on the V472, and even the nickname Titan
So, here they all are -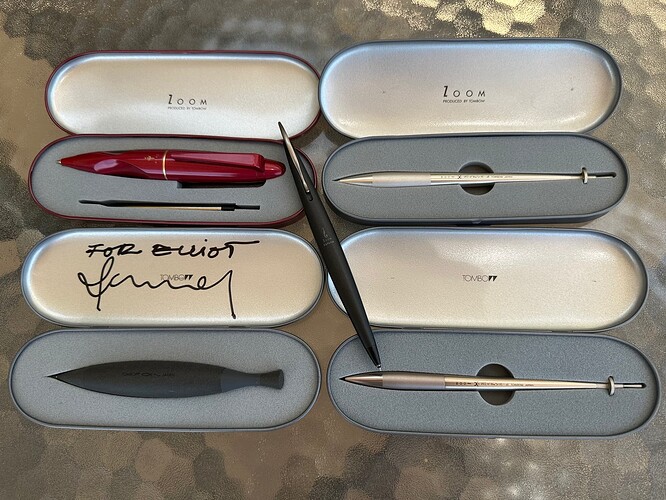 cheers