A while back I was chatting with @drifand about his experiences with ballpoints.
We both have a keen appreciation for some of the older, harder to find ones. In particular PILOT Hi-tecpoint (not to be confused with the Tecpoint V5 and V7 Precise), which is the ancestor of the Hi-tecpoint very fine tip liquid ink pen. He told me about a few others and then one in particular caught my eye. The MechaSEA. This was made by a Japanese motorcycle artisan, initially debuted in 2017 at the Osaka motorcycle show. This was written up already quite nicely by @drifand, so here's the LINK.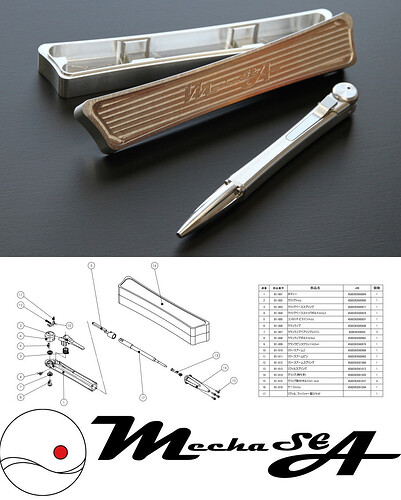 It appears to be discontinued, although some stock is still floating around. Amazon has it.
The casing blew me away. It's extremely heavy, deceiving one to believe the MechaSEA is heavy. It's not, as it's made mostly of aluminum. Extension and retraction is extremely simple–you just rotate a little knob on the back end (that obvious disc), until you reach the detent for full extension. The clip is the real attraction as it's complicated, more so than anything LAMY or Platinum ever made. The most fascinating thing about it, is when it's in the extended position, part of the refill mechanism is visible, so you can see it move when you extend/retract the refill.
Overall, I'd call it a conversation piece. It's actually ergonomic, and by design anti-roll. Still, it feels like a delicate piece of machinery that I wouldn't want to use every day. But it's a fascinating, highly unique writing instrument. I sure wish they'd made a matching mechanical pencil, but that'll very likely never happen.