Mitsubishi is a brand that likes to produce pen and pencil sets. Nowadays, they are still doing so with their super popular Uniball One hybrid ink pens… in thematic color sets that set schoolgirls swooning.
Well, for me, it's all about vintage MPs. Here are two sets (or sub-sets to be more accurate) from the 1990s and 2000s.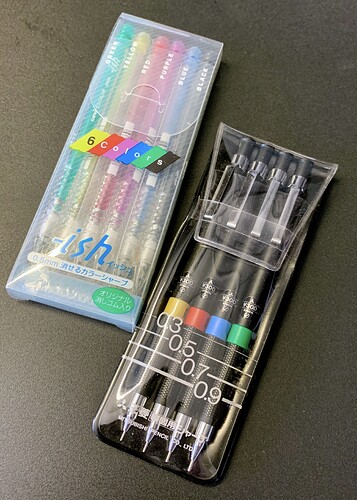 The first is a set of the M-351 drafting pencils in a pouch printed with the 4 corresponding lead sizes: 0.3, 0.5, 0.7 and 0.9. Now, I know there's a 0.4mm as well, but the conceit here is: If Mitsubishi deemed it ok to leave it out, then that's fine with me, hah!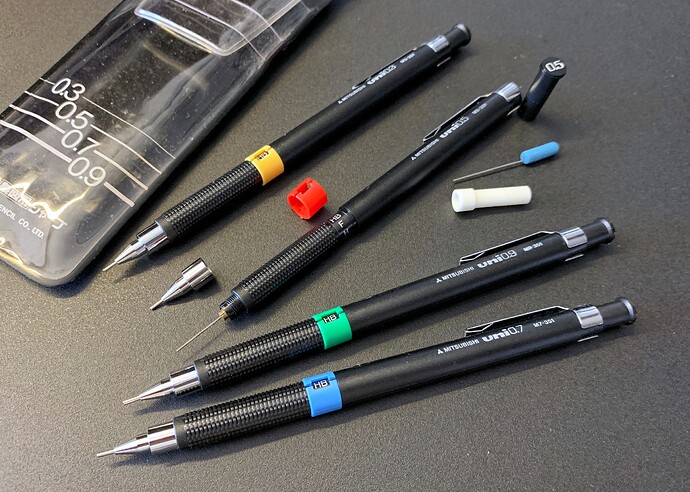 The second is an interesting iteration of Mitsubishi's long running love affair with erasable color leads. Their eponymous 'COLOR' brand has been applied to several different series of mechanical pencils made to color match the leads they hold.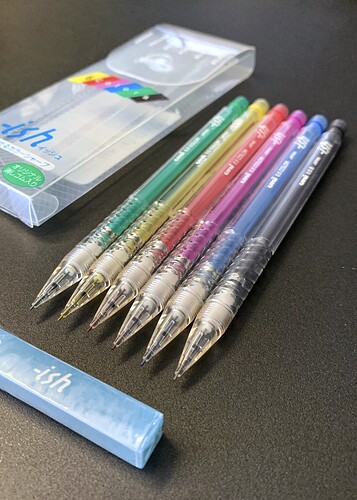 In this case with the 'ish' series, they opted for a clear body and translucent tinted reserve tubes. The grip area is a fascinating prismatic coiled groove. It is pure eye candy when it catches the light. Again, these six colors are by no means 'complete'. I have seen listings for loose lots with even more colors. But, I don't need them now that I have this nifty set as a representative in my collection.
Oh! And the ish set includes a clear rectangular eraser at the bottom of the case.