In a little over the past 2 months, I have purchased 3 Excalibur sets that are leading me to revise my timelines on the Excalibur pencils.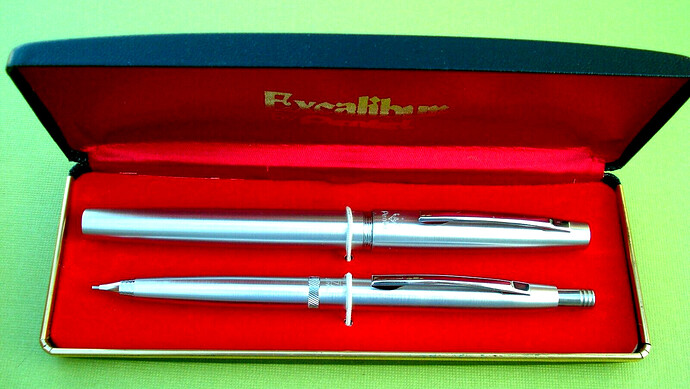 This was the first of these Excalibur sets I received. It looks like the pen is a match to Unknown Model 11, with the band looking like the Scepters. I thought that maybe someone had switched the pen out, since it was not an Excalibur, but what I have started calling the SG37.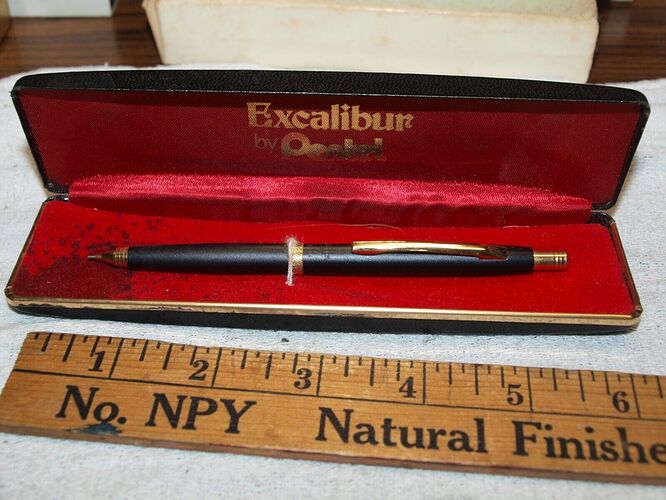 Then last Friday I won the auction for the "SG17", and it came in this morning. It too came in the Excalibur case (which looks to have had ink spilled in it, but the pencil is spotless). Again, I thought maybe it was a switched out case, except for…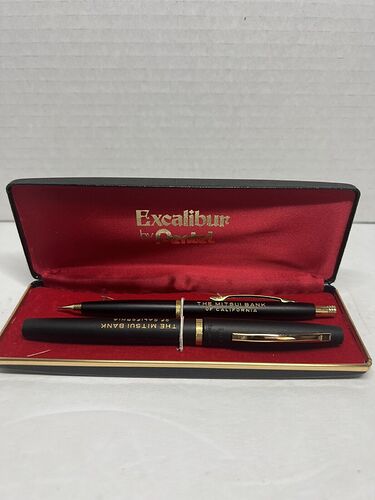 I purchased this set on 8/31, thinking that it would be the Unknown Model 08 (the listing did not show the stamped spot below the clip on the pencil). It turned out to also be an "SG17", but with the pencil being logoed, I can pretty much say that this is the way this set came. The Mitsui Bank of California - a subsidiary of Mitsui Bank of Tokyo Japan - opened in November 1974, so I suspect this was a promotional item, probably for employees, or higher-tier customers.
So, now I have 3 Pentel "7" pencils that came as Excaliburs, so I think that the Excaliburs came out in Japan first (being 0.5mm), and Pentel USA started to do them, but wanted 0.7mm, so they started out using the SG17 & SG37 as the Excalibur pencils, then switched to the Unknown Model 08 style (Crown over Pentel) before eventually changing to Crown over Excalibur. You can check out the evolution of the Excalibur Crown logo in the latest update to the Pentel Pencil Identification Book (v2022.11.03), on page 450.