ALL SCANS: Attachement_AF_23_21.pdf (6.3 MB)
ALL (OTHER) SCANS: My Files
These are ordered chronolgically - the market intended for the catalogue is mentioned after the date (if that information is known).
UNKNOWN - I received these scans without any date on them, it'd be of great help if someone can identify them. - will contact STAEDTLER next week to see if they know a date.

General Catalogue, 1980

Katalog 1983

Katalog 1984 - W. Germany

Catalogue 1984 - UK

STAEDTLER mars catalog 1985 - US and Canada

SUPPOSED 1985 Europe catalogue

Katalog '87/88 - W. Germany

1987/88 International catalogue? - I don't have a confirmed date like the others but the similarities '87/88 Katalog makes me believe these are from an international version

Catalogue '89/90

General Catalogue 1990/1991 - Japan

Catalogue, 1996

Catalogue, 2000

STAEDTLER MECHANICAL PENCILS, 2002 PRODUCT INFORMATION BROCHURE/CATALOG

Catalogue Edition 2004/2005 - Japan

Edition 2006/2007

Catalgue 2008

Products, 2012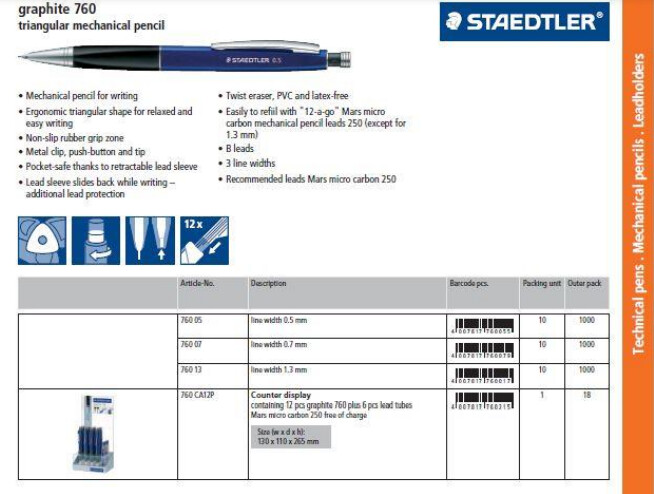 Products Catalogue Edition 2014/2015 - Japan

Katalog, 2022

Updated the post with other catalogues I have.