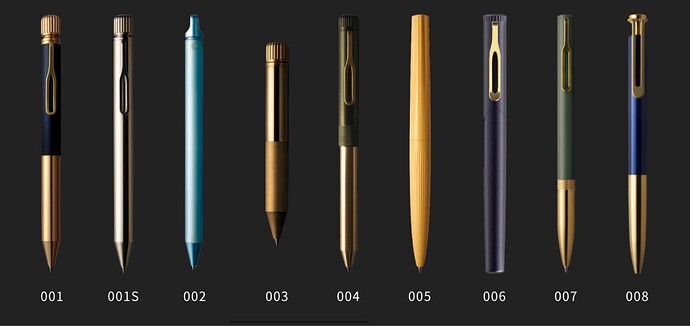 I've been a fan of most of Sakura's craft_lab releases since they launched with the 001 and 002 in 2017.
001 - Steampunk executive styling with knobby brass accents and a frosted plastic body that played nicely with metallic colors underneath. Bought a brass / green model that has aged beautifully. Also managed to get a limited run in black and gloss aluminum.
002 - basic gel pen with a design inspired by Sakura's Coupy crayon. Liked its simplicity and got a green and an orange one that I still enjoy.
003 - stubby all aluminum or brass 'scribble' gel pen with a weighted interior to resist rolling. Admired its purity but didn't want one.
004 - 2+1 multi-pen. My first 'no'. Top heavy design felt tiring. Still the only model with a 'pencil' in it.
005 - All plastic extruded sakura blossom profile pen. Love it! Got an orange, green and blue. For some reason, online listings today approach scalper levels. These nominally 5,000 yen models can sometimes be priced at 9,000+
006 - The current 'Unobtainium' model. For this release Sakura made the design modular, which meant that you had to go to a specialty dealer in Japan (like Itoya), and pick out your preferred combination of metal and wood finished parts. There are supposedly 288 combinations and prices range from 28,050 to 39,600 yen.
007 - Back to sanity with a simple twist grip design. Still quite elegant, and the milled band in the middle feels like a callback to the 001's brass knob.
008 - sigh. What do we get in 2023? A clicker design where the clip probably scrapes the body as you put it to work? Sad.
Anyone else collect these? I think Ray has the limited all metal 001S….