Very cool sakura. Is it painted or engraved?
Wow that's incredible. Beautiful pencils.
Zebra AS = underrated
I'm shocked you didn't already have a Murex
The sunburst Platinum is glorious! Never seen one before
I think the Platinum is showing the Japanese rising flag. The rest of the pencil appears to be a common Platinum design. From past photos I've seen from Ray, I think that Murex MP is an extra. He probably got a good deal on it. They're still pretty common, thankfully!
What do you like about the Zebra AS?
Heavier than you'd think; tip shape accommodates any grip style; pencil seems nondescript before handling but quite nice afterwards.
With most Zebras, my expectations are quite low. Whenever they're exceeded, I'm delighted!
I have the ballpoint for the zebra and it's oddly massive. It just weights more than how it looks. That heft on the MP must be very nice to use.
I also thought that the Zebra ASx is underrated until I open the cone and find that it comes with a PLASTIC clutch! Too bad… otherwise, it will be a good pencil…
Yes, the Murex MP indeed is my first one. Although I always looking for one with a price sticker, this one is too cheap to resist and comes with the ballpoint pen.
I love the rising sun pattern on the Platinum very much which makes the pencil very "Japanese".
I saw the fountain pen version on the net some time ago and already obsessed by it's pattern.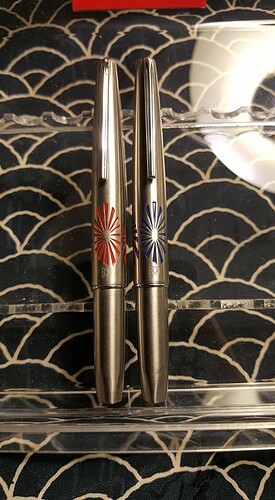 That really surprises me given all you've collected over the years. Yeah, sometimes you can get some good deals on those Murex MR BP's and MP's if you're patient enough. I think I have about 3 of each at this point, plus about 4 of the dotted matrix version.