Yep. There are two versions of the Q535 Popn'pop. Slight color differences between the two, and the 2nd series has a transparent cap. I have both sets and the 2nd release is much more appealing to my eyes.
Zebra mini Kyholder ballpoint pen
There are 3 different series of Q535.
1 - The Kerry with colors - Red, Blue, Green & Yellow


2 - Pop'npop (Series 1) - Same colors as Kerry version, with different clip colors


3 - Pop'npop (Series 2) - Pastel colors with transparent caps - Blue, Green, Yellow, Pink, Violet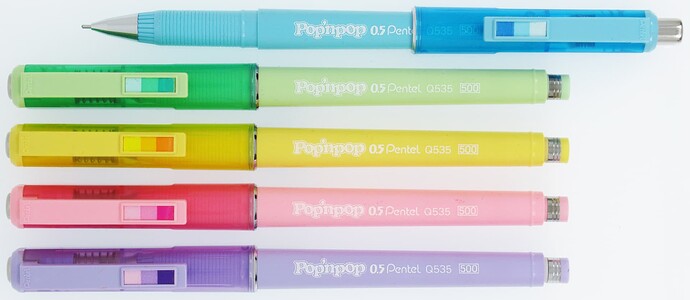 Those images are really cool

Why did they call it "Pop'npop"?
We don't know. We know there were cartoon characters involved in the branding but it was not the same Pop'npop as the video game.
One day we hope to uncover more info.
I thought it might be a joke name on "Dad who farts." A "pop" who goes "pop!"
In the Pentel Pencil Book, there are at 12 pages of Pop'npop pencils, at least in the one I am about to release.
A15 Pop'npop Mechanical Pencil
P105J Pop'npop Pencil
P595 Pop'npop Pencil
PBS1 Pop'npop Home Run Sharp Pencil
PD335 Pop'npop Automatic Pencil
PD515 (Type 1) Pop'npop Automatic Pencil
Q535 Pop'npop (Series 1) Mechanical Pencil
Q535 Pop'npop (Series 2) Mechanical Pencil
Q604 Pop'npop Injecto Mechanical Pencil
Q605 Pop'npop Mechanical Pencil
Dragon FSA1 KissTight Pop'npop Pencil
Pinky Pop FA101 Fun-Fun Party Pop'npop Pencil
I happily own all of the A15, all P105J, the silver P595, all PD335, all Q535, all Q605, and the amazing Pinky Pop FA101.
I don't think I am going to chase the Injecto. (but I've said that before about other pieces)
I'd imagine it's based on the sound of when you start using it
You "Pop" the cap off and "Pop" it back on
Only 3 of the 12 series listed above have caps.
Oh, you took the 2 sun-star Boston Club auctioned recently? How are they?