My first time seeing these in their original packaging. They're from this guy's facebook page. I'm wondering if he's lflyk93290 from YAJ.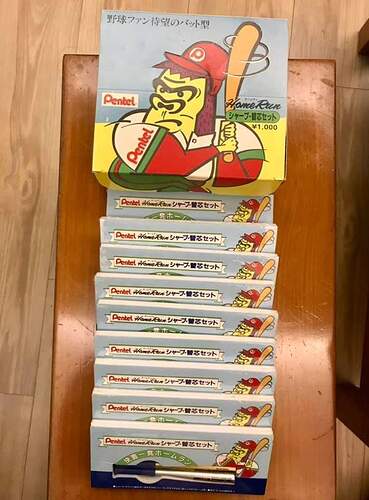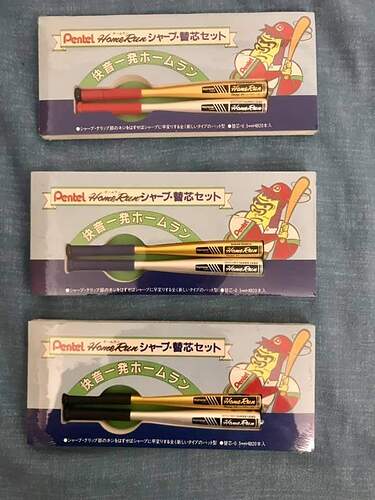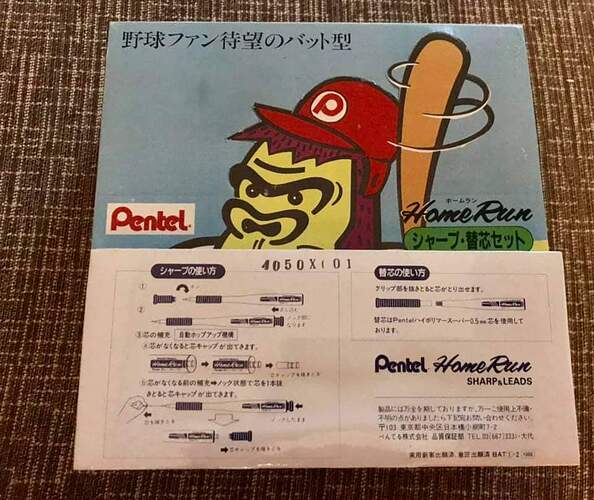 This is super cool! I'd love to have one of those packages!
Indeed cool packaging, which I've never seen before.
I would rather think that he bought some items from Iflyk, e.g. the gray Injecto.
I bought a red set in February, the YAJ auctioneer was mrhinapapa. I'd like to get the blue and black sets eventually. I have all three loose sharp colors, 1 CBS lead bat, and 1 KBS matching pen. Just picked up a few other types of baseball bat sharps, one is a Disney Mickey mouse, another is a Peanuts Linus that says Peanut Boy on it. Also bought three plastic ones that have baseball player heads w/ helmet as the knock. there's a couple more of those available if anyone is interested.
Very cool! Love the gorilla batter

bought these other bats last night. the mickey mouse one I bought last week.

Interesting how some have the writing end on the head end and not the handle.
CASIO G-Shock of Japan had "BAPE" (Bathing Ape).
Pentel of Japan had "BAPE" too. (Batting Ape)