Today I got my hands on another Accugraph and when comparing it with my previous version, I noticed several differences. Before listing the differences, we have two divisions in the series, without lead hardness indicator (first version) and with lead hardness indicator (second version). From the first version we have also two versions, one with black cap and one with a darker chrome cap. The image below have all of them: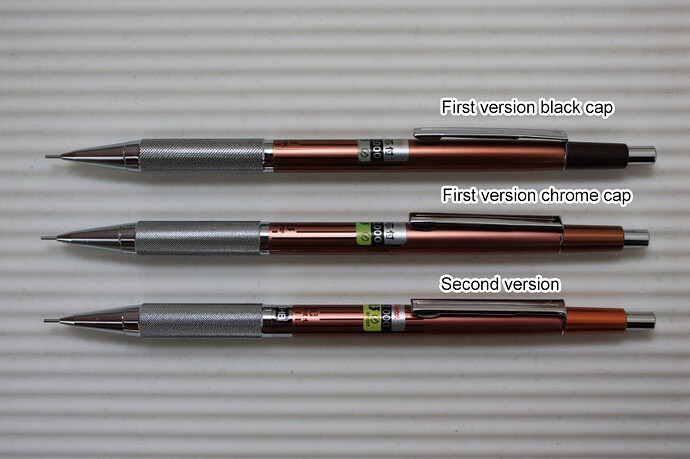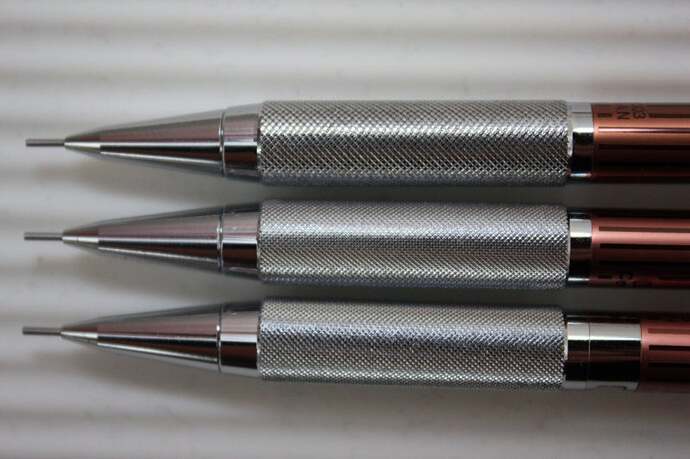 The comparison will be between the 1st version with chrome cap and the 2nd version.
The 1st version has a rougher grip than the 2nd version. The grip from the first generation even feels like a limestone from its roughness, while the knurling of the 2nd version feels smooth and soft.

The color of the 2nd generation is more pale compared to the first version.

The stripes in the 1st generation are darker than the 2nd version.

Second version has lead hardness indicator.

The first version is heavier than the second. The weight is much greater in the tip of the pencil, when you write you feel the center of gravity much closer to the tip.
Taking all these points into account, the first version of the Accugraph is the best one for me.
I have a few questions:
What is the history of the pencil?

Why did Pentel make these changes in the second version?

Which came first, the one with the black cap or the chrome cap?

Are there more differences that I haven't listed?