Since multi-pens are knock mechanism writing instruments, I had looked to post in the main part of the forum, but didn't see a category for them… so I'm putting this in Off-Topic.
I really enjoy multi-pens, especially now that some excellent quality D1 refills exist that make writing a pleasure. For the longest time, I was into just PILOT and rOtring for these, but gradually I became familiar with other brands. the Zebra Sharbo in particular. I just love the styling of it, both the LT3 and ST3. But my one key gripe with these is that the sequential deployment of the refills has detents only at extension, and not in between. This is a little sloppy. You get used to it, but… sometimes tips peek out when not wanted. Well, fast-forward and I discovered the Sharbo Surari. The front is an obvious bullet shape… not to my liking as much as the traditional cone… but I discovered something quite pleasing – retraction detents! Yes, there are 6 – one for each refill extension and one for each retraction. It works well. The body of the Surari is also a little more narrow than the LT3 / ST3 bodies.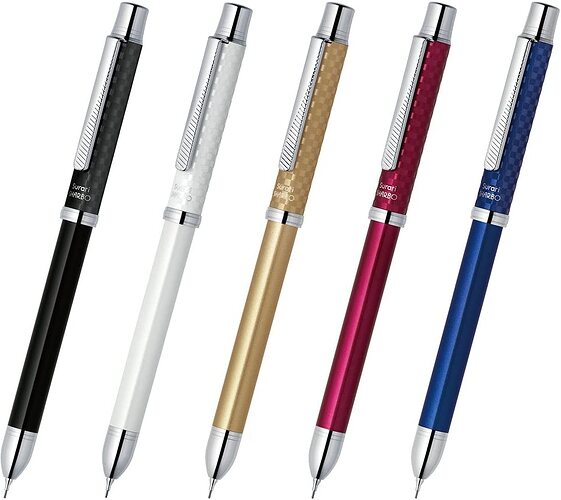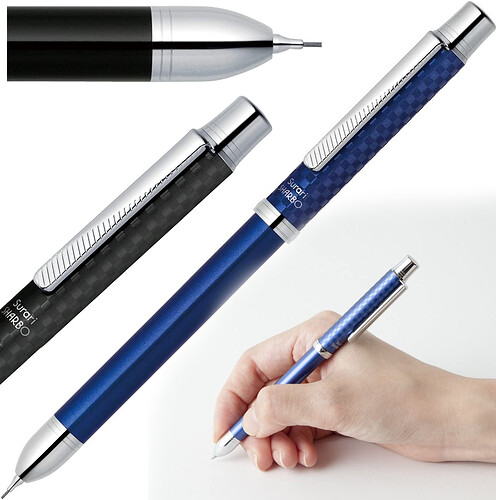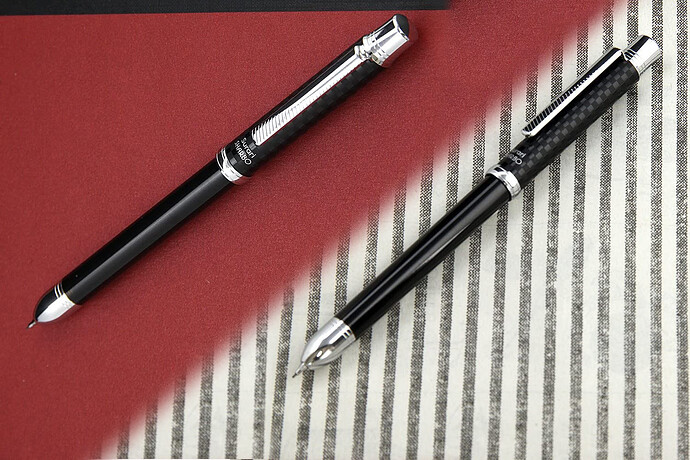 The Zebra Store on Amazon goofed. The lowest priced model, the blue one ($18 USD), can't be found if you search for "Sharbo Surari," because they misspelled it as "Shabo." Something about the Champagne color really resonated with me and it turned out to be less yellow than in photos (more to my liking), but I had to buy it off of YJP, because it has been out of stock in the USA (I got it for $12 after in-Japan shipping and fees, nicely cheap). This is a really nice multi-pen and the narrow body makes it excellent for portable note taking tasks.
Anyway, it's an all metal bodied multi-pen without being very heavy (not like a rOtring 3-in-1). The clip is firm and yet flexible enough to be very useful and pocket-safe, with an asymmetrical lined texture design on it. The rear does unscrew to reveal an eraser, just like on all other Sharbos. And lastly, that mechanism. It's so smooth. No cheap noises. There's nice tension before sliding into the detent. It definitely exudes quality. The mechanical pencil feed is nicely quiet, though it's a little mushy like on the 600 Trio. There's also good tension on extended positions, so you don't feel tip wobble. Sometimes priced at under $20 USD for some colors, you really can't go wrong.
I'll try to take a group photo of my multi-pens sometime soon and append here.
---
So enough about Zebra… what of other brands? rOtring is a prolific maker of them and has been doing them since the 1990's. The 600 Trio is a beast. It's fat. It's heavy. And it's tough. Not really a daily-use kind of instrument unless you like that extra exercise. But the mechanism is excellent. I do like gravity mechanisms, because you know exactly what you're getting with random access (no wandering around). There must be like 10 variants of the Trio. There's also a 400 Esprit multi-pen. And likely some others on the cheaper end, made of plastic. My favorite of the Trio line is the one version that came with a rubberized sheath on the metal parts, and a satin finish silver coating on accents. It has a big rocker-style clip for retracting tips. It's real rubber, not some faux blend that might turn gooey at some later point in time. They fly under the radar and can often be had for relatively cheap prices on the used market.
Aesthetically though, PILOT won me over with their 2+1. Such a nice design, especially the brushed stainless steel version with black etched lines in the grip. The gravity mechanism works just about as well as the rOtring Trio. PILOT abandoned all metal multi-pens, and now makes them mostly out of plastic with some metal parts. The Frixion is actually a very decent 5 refill multi-pen, that's also available with genuine wood grips. I got one in a pencil lot and was duly surprised by how usable it is, despite that notable girth.
Mitsubishi has a few multi-pens as well, but I believe mostly 1+1 (pen plus pencil). In their Jaguar line they came up with an all steel model, one plain brushed stainless and the other black etched lines. The mechanism is a little finicky, but it parks rather solidly and looks amazing.
LAMY got into this game too, but not much. There's a 2000 multi-pen, but it's all D1 ballpoints–no pencil. So that is an immediate disqualification for me. I don't know if they ever made a 1+1… My memory vaguely recalls a CP1 like model, but I'm not certain.
Last but not least… OHTO. They make a number of multi-pens, some with all plastic bodies but a few with metal bodies. They're pretty slim and nicely done.
There are other brands… so many I've not yet explored. Btw, Sailor made some 1+1 multipens, but it looks like they cheated and rebranded a Mitsubishi 1+1 model.
Anyway, it's a golden age of multi-pens. There's just so much choice out there you can be overwhelmed or end up with just too many like me.

So, Knockology folks, please come and share your viewpoints and suggestions on what multi-pens you enjoy. Thanks!