Pentel Mechanica 0.3 1st edition, in all its shiny and restored glory: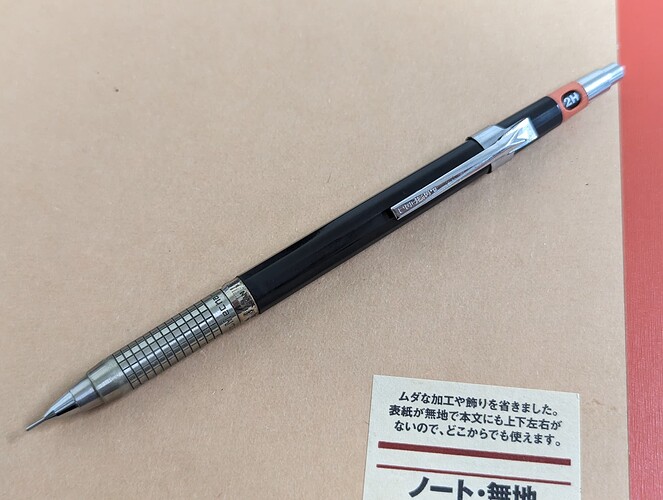 I bought it relatively cheap some time ago, but when I got it, it was in incredibly poor shape. The clip was bent and glued to the body, the lead hardness selector badly sunburnt (almost white), several deep scratches on the body, among those the name of the previous owner written x3 times, the grip almost wouldnt turn. When I was able to unstuck the clip, a shadow remained where it previously was (almost in the middle of the body).
Let's see some photos of the disaster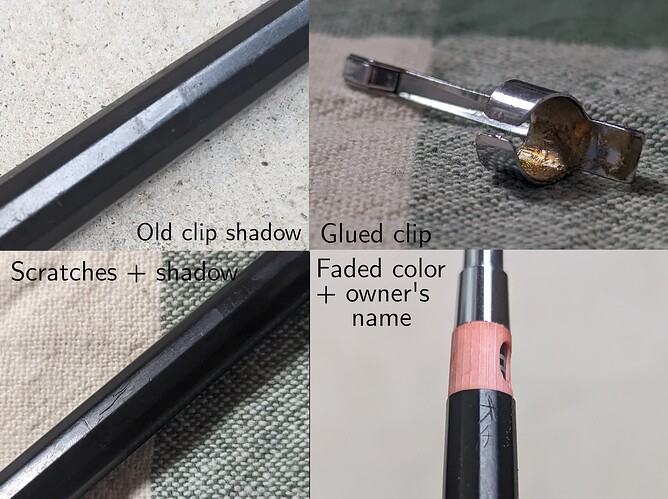 Things I did to restore it
Disassemble the grip section, clean it of metal dust, lubricate it with silicone grease
Remove the clip, straighten it, remove the glue with peg wood + acetone
Resurface the body, 800-1200-1500-2000-Polywatch-Copy paper
Polish the lead hardness selector with polywatch
Now, the grip is smooth, the plastic looks almost good as new and the heavy discoloration on the hardness selector is gone. It's not bright orange, but it became a very nice and uniform peach color. Thankfully the white color was very superficial. After refinishing the body, it's mostly shiny, but slightly matte in some places. I've done that grit progression on other plastics and it was enough (you can usually skip grits on plastic and it will look fine, unlike metal) but I guess I should have spent more time on the 1500 and 2000 steps.
The thing I'm the happiest about is that I could remove the scratches without losing the faceted body, I took great care on only sanding one face at a time and sanding all of them equally. That, and how the lead selector turned out. I don't mind the discoloration, but I hated it being uneven. I would even say that I prefer this pastel peach to the bright orange.
The plating coming off on the middle ring is something I don't mind at all. To me, that's like the true proof that it's a 1st edition mechanica. Honestly, 1st edition mechanicas with a shiny middle ring have either been conserved in a medical grade vacuum chamber, never touched by a human being or are frankenpencils.