Aww man. Do you think that happened by poor packaging?
The seller mentioned 'function not confirmed' in the description. But they did not specify that the mistral had a bent tip. And the uploaded pictures did not show it in the damaged form. So I would call it a scam of sorts I guess.
This was a set purchase, the other items arrived without damage, so it was clearly a misleading picture.
The picture they used didn't have a bent tip or they avoided photographing the tip?
Share the seller, please.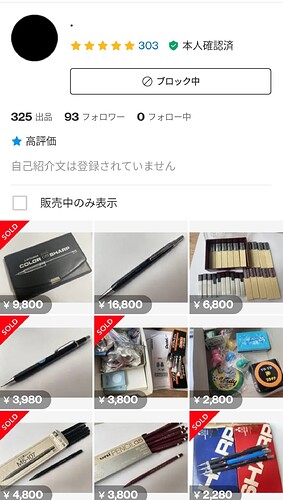 This profile, they have insane stock of vintage goods. I guess many of us have bought from them before. I saw many proxy ratings.
I meant they avoided sharing the clear details in the picture.
Unless my eyes are deceiving me, the tip looks slightly bent in the pic. Pretty shady of the seller not to mention that explicitly - it's not enough to say the function is not confirmed; that should be labeled as 'junk'

Really? I could not tell it from the uploaded picture alone. Usually sellers point out the tiniest scratches in separate uploads.
that sucks … I also interpret a "function not confirmed" just as a protection if very special features may be present, but not as an excuse to hide obvious damages.
Such cheap convolutes are ok, but marked as "junk" set usually.
I've been following this seller for some time because of his listings. One strange thing that happend is last month he changed his name from something like Ty… to just a dot . . Many of his listings the condition was New, but after that I'm a little skeptical about the conditions he puts in the listing.
Yep… I can see the slight bend in the tip of that Mistral. It's VERY well hidden. And when you raise up the pencil? SO OBVIOUS. This seller scammed you. Sorry to see it!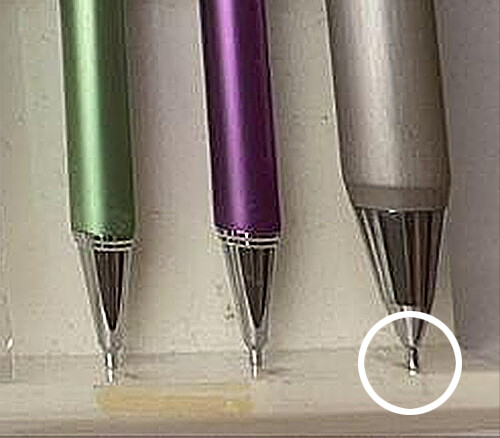 I have to wonder now… with the rash of purchases being done via proxy services, if some sellers rest on being able to get away with small visual deceptions. Or even outright deceptions. There's no recourse with a proxy. And there's no way to ensure bad feedback is returned. These proxy services need to revise their policies so there's a means to do this. I've looked at what's left and it's all the same thing, an innocuous thank you for a smooth transaction.
Been meaning to ask this
Is there no recourse for buyers through proxy services?
Because the proxy service leaves feedback for the seller upon receipt, the transaction is officially closed. There's no recourse.
This is why it's often a bad idea to risk a low feedback seller. I took a chance on one and out of 3 transactions, one of them was bad (it was a NOS mechanical pencil that would not advance lead, no matter how much cleaning I did).
If a proxy service makes a mistake, there should be a recourse. I had a situation where they left off an item I wanted shipped. They couldn't find it in the warehouse. And they credited me the value of the item.