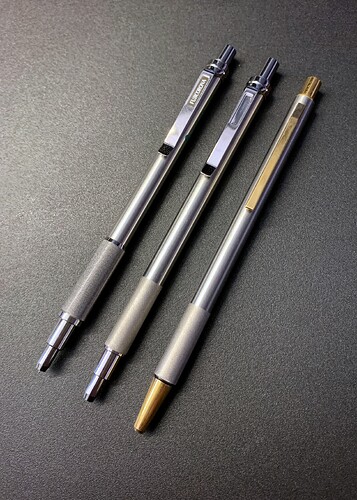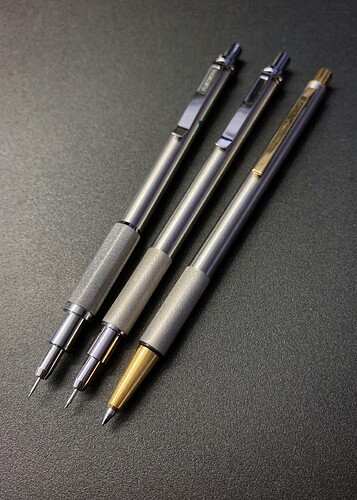 Thanks @kiwi-d for selling me the unmarked Manufactum double knock

I don't get it… so you found out that the manufactum is done by ohhira? Is this an old version? The actual ones neither look like the middle nor right one?
Im confused… this doesnt look like the Manufactum on their website. Am i missing something??
@drifand mentioned this elsewhere, but this was the first version of their double-knock. The current version is more unique to Manufactum; the older version (pictured here) appears to be a white-labeled version of the original Ohirra, but with minor alterations (such as the grip and no infill on the clip).
Ohhhhhhj ok. Do i sometimes see it as Ohira? Or is that a separate clone as well?
Or rather: how many versions of this pencil ARE there??
Is there any way you could post a side by side of the first and current manufactum? Id very much like to see them together.
Ohirra, Fuji-Corona, Kokuyo TZ-PSP, the Manufactum, various unknown/unmarked versions, Blick Premier Pro, Amazon Basics MP, and probably a few more I'm not aware of.
Yes, I believe this is THE ONE

@Knockologist shared the link to Dave's original post of the OLD Manufactum double-knock… dated 2008. As far as I know, the current version (in brass, silver and black) dates back to 2010. I got my brass version in 2016/17.
Wow… I did a double-take, thinking the last one was a ballpoint. It's not on the Manufactum website…

My Kokuyo pro tz-psp and blick premier pro are as similar as Dr Pepper and diet Mr.Pibb.
They are both double knocks and…thats all i got…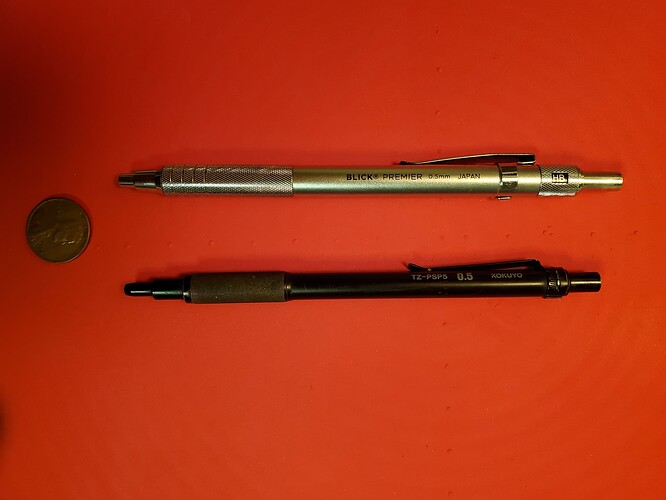 Sorry for the lazy details… L-R:
Fuji Corona Mecha Pen No. 205-03 double knock. Got this from Andrey's before Russians were booted off eBay. I thought it was expensive at around $75 but it turned out to be a bargain in hindsight.
Manufactum Druckstift Feinstrichmine 0,5mm #17651830. This is the one I got from Dave that he mentioned in 2008.
OHHIRA ballpoint with golden accents. Got this off Mercari this year. It was listed as 'OHHIRA ball-pen'. The body and knurling are pretty much identical to Dave's Manufactum.
Thanks for clearing that up. I thought it was a ballpoint… but my imagination tried to eek out a clutch point.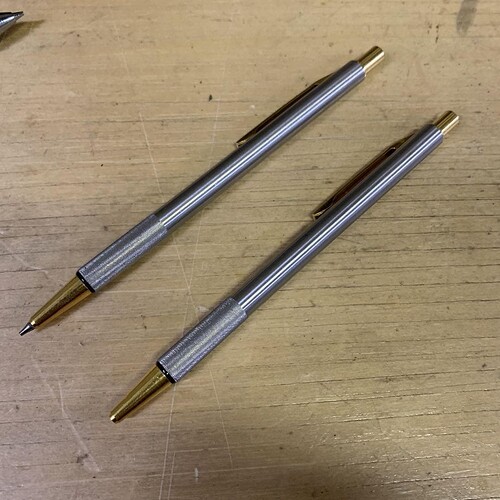 Internal mechanism on both of these pencils is a white-labeled Ohirra.
I'd seen someone note that the Cult Pens mechanical pencil is made by Kaweco. Can anyone here confirm that?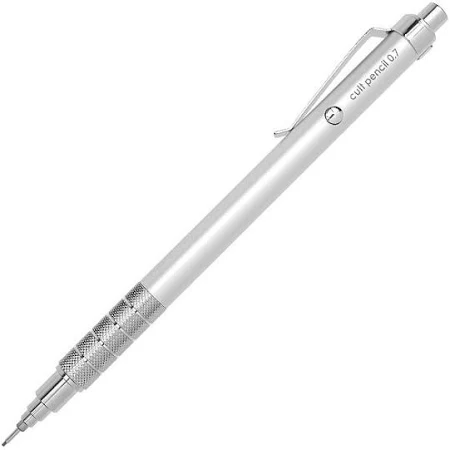 Seems to be like a near perfect blend of the Blick Premier and the Manufactum Druckbleistift Messing.
Haven't seen that association before with Kaweco… Cult Pencils did say they worked with an OEM (un-named) to spec out the features they wanted for their own MP.
As far as I know, the Cult Pens double-knock is indeed made (or at least assembled) by Kaweco. It's also only been available in 0.7 for many months