Wow! This is one of the best photos. Care to explain how you pulled this off?
Here's some I did on a lightbox many many moons ago…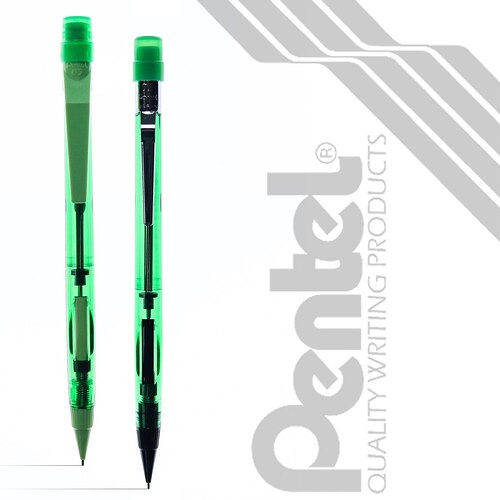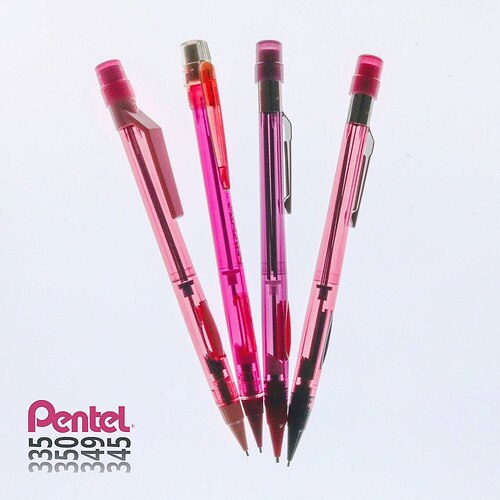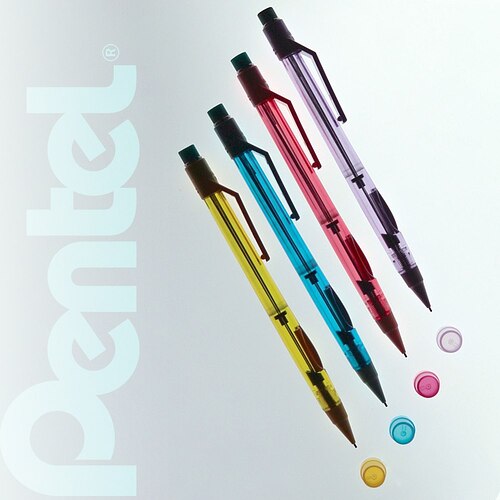 I just blu-tacked them to my studio windows and over-rode the default iPhone settings by overexposing about 2 stops. The problem was: the building's windows were dirty, with rain streaks mixed with dust. I had to retouch it in Photoshop, isolate the pencils and then despeckle the dust away. Back in iPhone, tweaks made to the 'ambiance' setting in Snapseed, color balance and sharpening.
What floor on the building is your office? Did you have to angle the camera up to achieve a clear shot of the sky?
Our studio is on the 4th floor of an 8-storey building. I did stick ''em pretty high up to avoid the 'ground clutter'. Here's the unretouched picture… KNOCKOLOGY EXCLUSIVE EXPOSE!!! Get the DIRT on DRIFAND'S notorious pencil pron!!!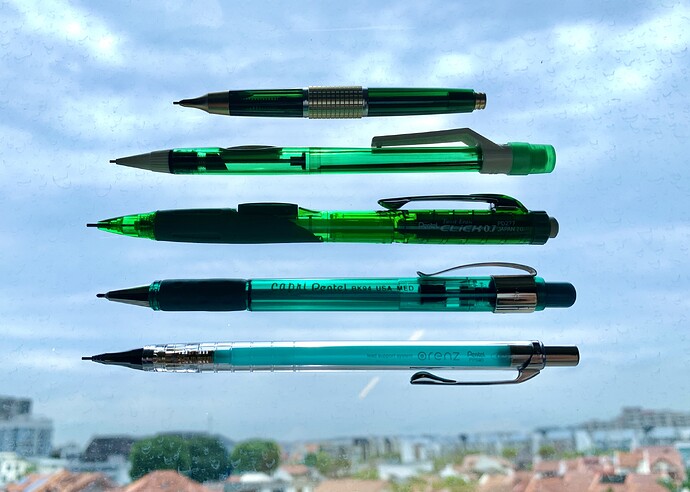 These are official catalog worthy

Very cool, Kelvin!
I also like it with the city line below, giving some perspective. So you must've used a tiny pea of blue tack near front and rear of each pencil, so you don't risk it being viewed through the translucent part of the body, right?
I may have to try this at my location, with the skyline of Manhattan in the background.

Yes please, it's would be fun to see what outside everyone's windows.
During the night: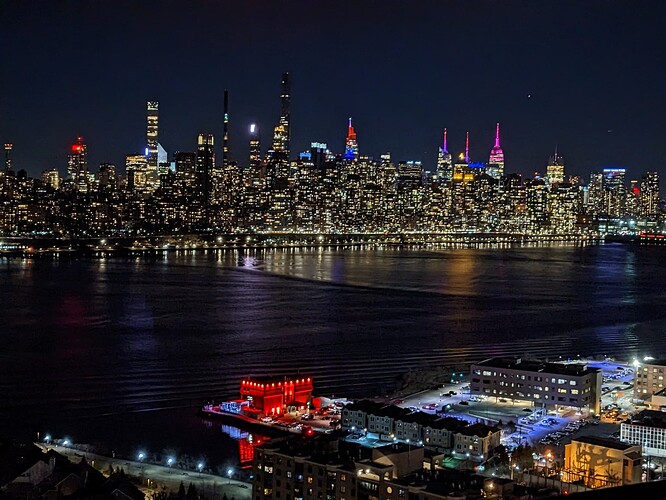 During the day: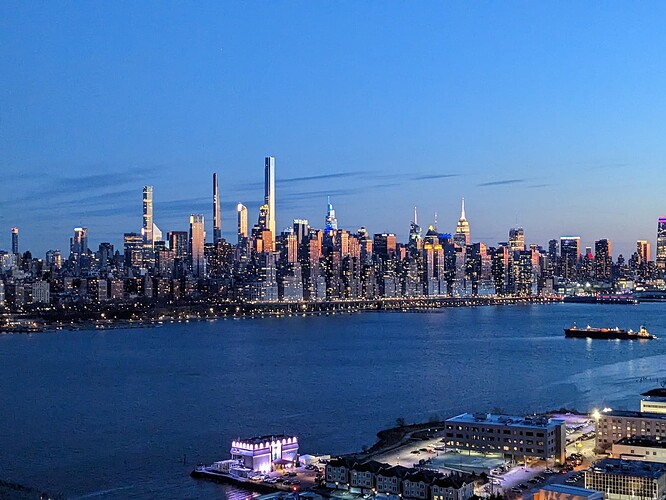 I cheated though – these are balcony shots, not through a window. But I'll have to see if I can find some blue-tack.
Opposite side. This is NJ coast looking southeast at Manhattan.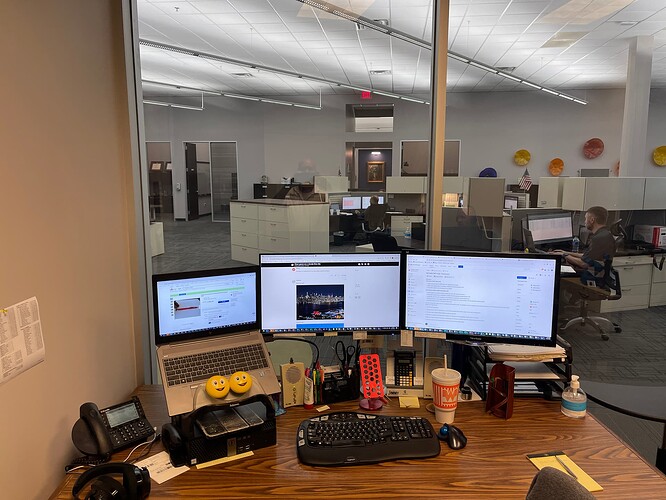 Yeah, I work in a warehouse district, but I have a big corner office that my officemate and I call the fish bowl. There is a sign beside the door, "we're just two lost souls swimming in a fish bowl".
Do you draw charts / diagrams of some kind requiring a lot of hexagon shapes?
My brain hates this. I can only perceive the NYC skyline from the east

(probably because I've spent so much time on Long Island and always fly into JFK).
Also, freaked out by how many buildings lie south of the old WTC complex (unless I simply don't know what the hell I'm looking at)—I thought WTC was pretty much the southern end of Manhattan (save for Battery Park, which would be a derpy correction to add here).
WTC circled in red.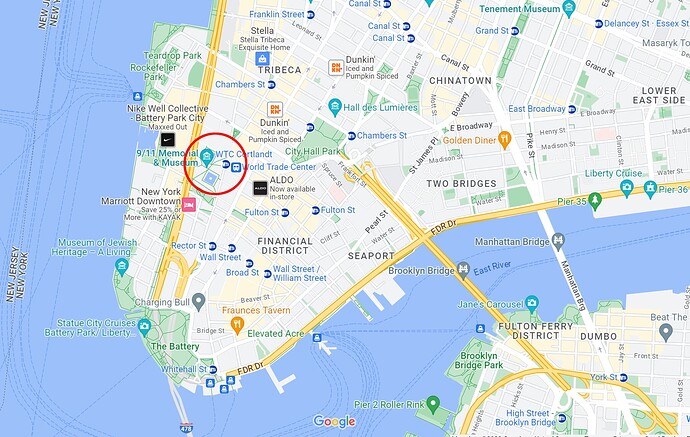 There's a good bit of real estate to the south of the WTC.
But the photos I've provided clip off that lower portion. You can see the Empire State Building in the right quadrant. From an aerial map, you can see just how much more of Manhattan is south of it.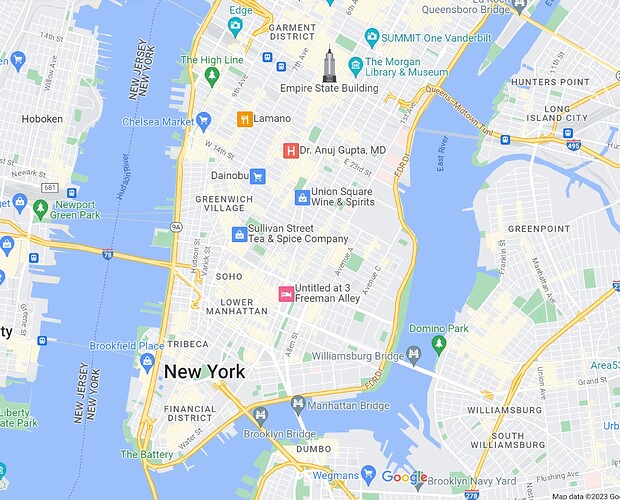 I can't make sense of the view.
Empire State Building lies north of the WTC complex.
But in your picture, it's to the right, suggesting it's south.
Now, I understand angular oddities and can see how a building east and north of the WTC complex could actually appear south ("to the right") of it…
Seems like you'd have to be standing pretty far south and west of Manhattan to achieve this illusion.
Update: This could be what's throwing me off—is that tallest building NOT the WTC replacement? If not, everything makes sense. (In other words, this view would make sense to me if NONE of the WTC complex were visible in it.)
To me, that's the strongest visual anchor in NYC, so I just assume all skyline photos include it (which certainly doesn't have to be the case!).
Yeah that photo's right edge is about at 14th st. Cytherian's office is pretty far uptown - West NY?
Let's see the gwb view - probably stunning unless obstructed?
We've been had! I was expecting views from a Greek island and we get the Manhattan skyline instead

Nope. That is a Tensegrity Phone Holder
Looking at that photo, that is a very odd perspective of my desk. It is 6' wide.