Instamorph is a really neat product. Basically, it's moldable plastic that simply requires hot water. You pour the plastic beads into some hot water (Pyrex beaker works great) and in a few seconds, the beads become clear and soft. Use a spoon to mush them together (they tend to clump naturally) and then extract from the water. In about 10~15 seconds, it's cool enough to touch. You have about a minute to start molding it into the shape you wish.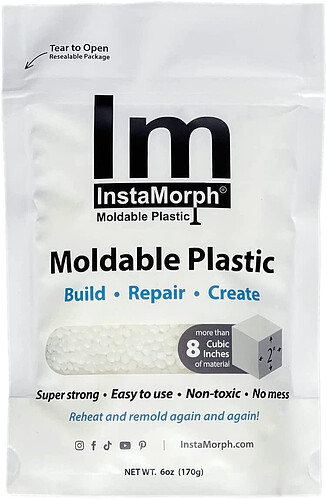 InstaMorph is a lightweight polyester thermoplastic which acts like clay when warm, but when it cools, it's a strong plastic. Mold it with your hands, tools, or press around an object to make a mold. It can be painted, machined, carved or attached to other materials.
I've used it to repair a microwave door handle that suffered a few small pieces flaking off due to stress (bad design). The replacement handle was absurdly expensive… so I just filled the hole with Instamorph. It's actually superior because I molded it to conform to fingers. It has a nice comfortable smooth texture. In another case, I took a steel shelf unit where a welded connector detached from the metal basket attachment, and then used Instamorph to create a "support socket" that tightly wraps about the connector. It worked great and remains tightly in place.
I also made a pen part with it. Well, a minor one. My old Fisher Bullet Space pen had a stylus tip out of the top of the cap. That plastic tip wore down and then broke apart. The pieces fell out and then seating the cap on the pen resulted in the ballpoint end sticking through it and staining pocket bags. I was using a vinyl pole cap that fit perfectly but it kept popping off no matter what I did (Shoe Goo, double-sided tape, etc). So I took a little Instamorph, rolled it into a little peg shape, dropped it into the cap, then used a No. 2 pencil (eraser end) to push it down until the Instamorph pushed through the opening. I then slid the pen into the cap all the way to create a totally conformed shape around it. Within 5 minutes it hardened. Perfection! The piece is nicely tight in place.
Instamorph will remain tough until it is soaked in boiling water again… then it becomes clear and soft once more. It's an amazing material. I chose white as the base color, but you can also get it in black. You can also paint it if you wish.