I kinda left L-torches behind after my 13-year army stint here in Singapore

The top photo, what you call "L" torches: These are really small and fit in the palm of your hand (at least the short one on the left). They are also driven by a programmable UI called "Anduril."
I only have 2, but I tried to buy two good ones since my safety often depends on them.
The first one is a Fenix HL55, which I use when mountaineering. Great one, but the running cost of the batteries is quite high. The second one is a Cateye Volt 1600, which I have on my bicycle. Great power and the batteries have not degraded noticeably in the 3 years I've been using it.
Fenix makes good quality torches. But there are so many phenomenal choices out there and for even less these days. Concerning efficiency, Zebralight makes some great regulated lights. But I've been rather impressed with Skilhunt's headlights. Plus their magnetic charging is super convenient.
I've had the Nitecore EDC27 in my Amazon shopping cart for some time. Anyone familiar with this one?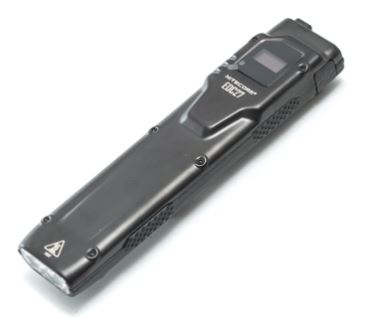 I have a bunch of 4Sevens lights and a few others.
Nitecore makes some interesting flashlights. They've been incorporating miniature OLED screens to provide some useful information. Pretty much the only thing of real concern with a flashlight is to know the battery level. Other flashlights do this in a more primitive means, like little LED indicators or a command invoked that causes the light to flash out the voltage.
Check out BudgetLightForum for discussions and reviews of flashlights. Lots of great info there. Also, YouTube of course has really good ones too.
One problem with these specialized designs is that Nitecore uses a proprietary battery pack. They're very expensive to replace, unlike individual cells. Also, instant turbo from a simple press is troublesome. Most flashlights do a more complicated command like a double-click or a click and hold.
Is that the same Nitecore that makes a titanium MP for 150-odd bucks?
i think so… I had a look at their website and saw some pens. Their catalog does show some pencils.
I picked this bad boy up on a whim.
100,000 lm I think that may be too much. You can't use it inside it's like looking at a freaking arc welder.
But damn, I think I could signal the ISS with this thing.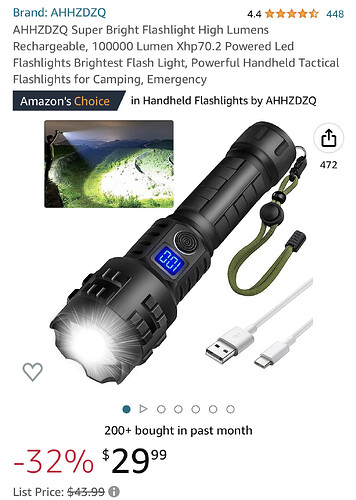 Oh yeah… I should've mentioned… that on Amazon you get a lot of "inflated performance" lights listed. There's absolutely no way this is 100,000 lumens. Even 10,000 lumens would be pushing it! But it'll be bright enough in general. Most of these LED flashlights today are pumping out fantastic lumens/candela. The only wince part is the temperature. Looks like this one is over 6000K. The XHP 70.2 is a very good LED. Pretty efficient. Of course, presuming you're getting a real one in this flashlight. Sometimes these no-name brands substitute Chinese equivalents. The brand name is weird. How the heck do you pronounce AHHZDZQ?

Btw, the listing screws up and later says 90,000 lumens. And then says you've got an "Upgarded" XHP 70.2 LED.
Good thing Amazon has a return policy. Because there's a few things you may not like. First off, the mode selector. It STARTS in HIGH. Which is absolutely awful when you've got a very bright maximum brightness. Most sensible flashlights are designed to start on low and then with simple clicks you step up brightness. Then there's the "blinkie" modes, strobe and SOS. They're IN THE MAIN PATH (most well thought out flashlights have blinkies in a hidden menu that you access with 'x' clicks). That means if you've gone down to low but want high again, you have to step through SOS and strobe. There is just one way around that. Instead of scrolling all the way down to off, if you press and hold for 3 SECONDS, the light turns off. A bit of a pain, really. There's no safety to keep the light from accidental activation, like a lockout mode. I don't know if you can partially unscrew the tailcap to get a lockout.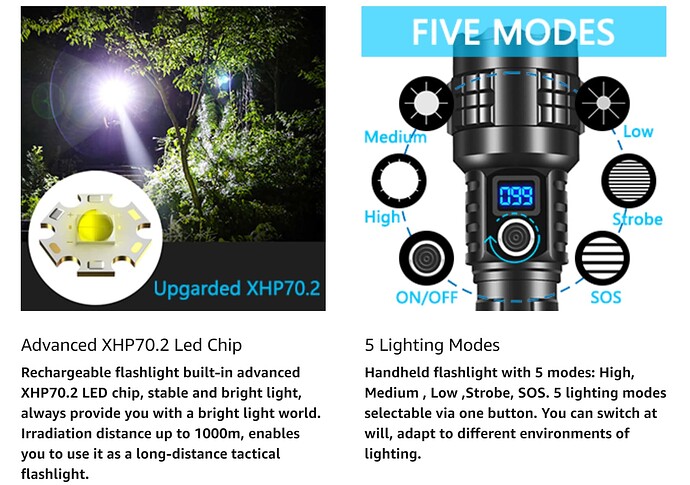 The other thing is… this is a zoomie. That means it's not a fixed beam. Rotating the head you can focus from wide to narrow. And while zoomies do have their uses, they generally don't do the extremes well–flood and throw. You'll also see an uneven beam pattern.
Start with "AHH": Imagine you're seeing the most adorable kitten in the world. That awe-inspired "AHH" is your first sound.
Now, onto "ZDZ". Imagine you're a futuristic robot who's just encountered a difficult math problem, and you're crunching numbers in your head. "ZDZ" is the robotic noise you make when you're deeply contemplating.
And finally, we have the elusive "Q". Here, just imagine you're a duck, but you're a really posh British duck. You don't just quack, you "qu". So, say "q" like you're doing your best upper crust duck impersonation.
Put it all together: "AHH" + "ZDZ" + "Q" and you'll have your pronunciation.
I noticed the 100k/90k discrepancy also. But being that my strongest flashlight is supposedly rated at 5000 lm I thought what the heck.
This FL is exceptionally bright, however, all of the shortcomings you pointed out are absolutely true.
And it's heavy.
Ah, so you already got it! Somehow I was thinking you posted about what you had just bought (ordered).
What's the make/model of your next brightest flashlight?
Yeah, forgot to touch on that last one – weight. But I guess that's a good thing being heavy–thick metal body. Is the battery proprietary, meaning there's no access to remove it? They say 5000 mAh. And if it's a single cell, it's possibly a 26650.
My other is a sofirn SP33S (my dog walking light

)
Yes! That's another reason I purchased it, the battery is removable. 5000mAh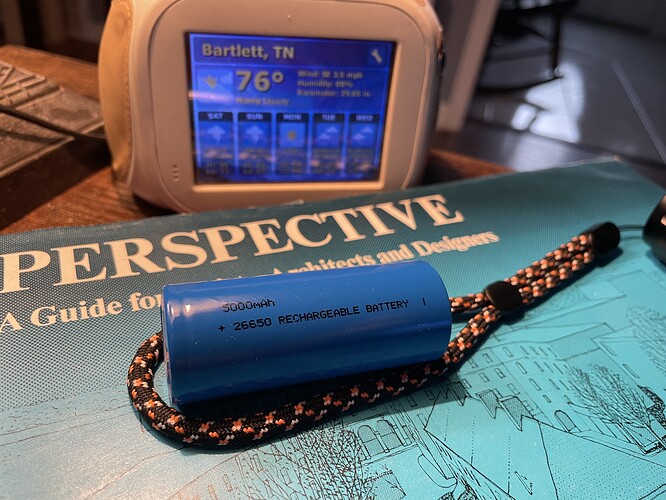 The construction is good enough for my purposes, and the novelty of a torch this bright for the size/price it was worth the $30 to me. I would definitely not recommend this for any EDC activities. We hike/camp in some really remote places, so I do want to see how well this works out in the open (I've only tested it at home in the suburbs).
Later this month we will be camping on an island on lake Champlain almost near the Canadian border. No electricity and you can pretty much say the same about cell phone service unless you want to climb a tree. I got this one to use when I take my grandkids on our nocturnal expeditions hunting for Champ, the Lake Champlain lake monster.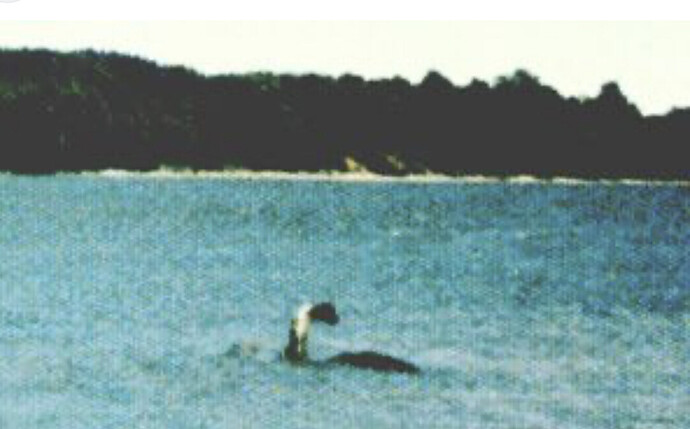 Sounds good! Yeah, for $30 USD, it's pretty decent for the output, USB-C recharging, LED indicator, and removable battery.
Let us know if you spot any lake monsters!
Btw, I have the Sofirm SP33v3 as well. Very decent flashlight.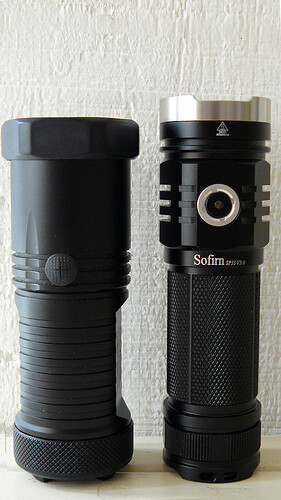 This little guy is a lot of fun. I just picked a few of these up for my grandkids and myself for an upcoming camping trip.
https://a.co/d/1MU0NAh
The "Tough Light" has several light modes, will survive at 8 foot drop, and it floats.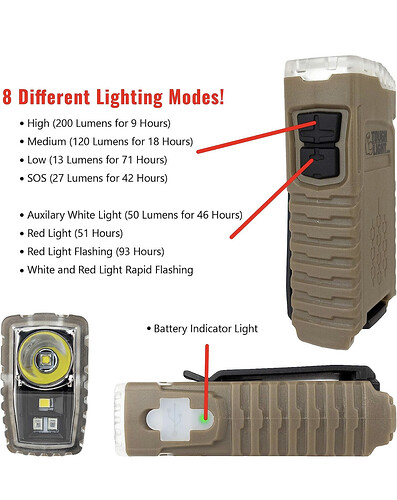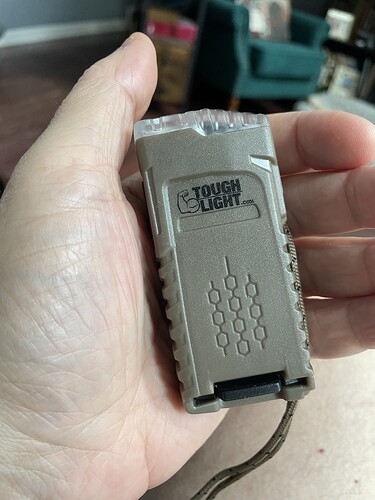 200 lumens for 9 hours is very decent, assuming the ratings are accurate. Cool that there's an auxiliary light bank, including white light and red. It was $12.50 USD up until early May, then jumped up to $16. Still, not a bad price.
Is this recharged using USB-C?