never heard of it. that knurling looks like it will bite. Found it on Woodcraft.com for 12.99. They are also selling it on Ebay and at Walmart, same price.
I have a Tomato 2mm. I can't recommend, it's just an inferior RR clone: the knurling is slippery (doesn't bite at all) and the general haptics is too smooth.
Tomato is a Taiwan(?) brand. This is basically a low-end clone like the Turkiye-based Scrikss Graph-X. Spring cushioned feed. Wobbly sliding tip.
Thanks for the feedback. Good to know – going to pass.
I wonder if there's a decent quality clone of the Platinum MT-350 that doesn't involve gluing parts together. Something better than the Unipoint Saturn.
My MT-350 feels like one of the most solid MPs ever made. It would be right at home in a photo shoot in a military barracks.
When was the last time you saw an MT-350 up for auction and how much did it sell for? I haven't seen one in a long time, but I have to admit I don't actively search Platinum much these days. The last time I saw one sell it was a few years ago and it went rather high (relatively speaking)…
I think the "problem" with the MT-350 is, that they were not issued by Platinum Japan, but Platinum Taiwan (or Indonesia? or …? – pearsonified will remember).
I've heard this before—supposedly Taiwan
I think we both bought it at Andrey's Pencils ;-). He had the pencils sorted in categories, and he had 2 categories for Platinum: Platinum Jp and (I think) Taiwan. In the 2nd category there was much trash, but as highlight the MT-350.
Yes, it was Platinum Taiwan. They made some interesting models including an all-steel basic drafting set, and a family of two-tone W-knocks. Can't recall the model numbers off hand. And also a round profile 'tribute' of the rOtring 500.
That is where I purchased mine from.
Are the two-tones the all-plastic variants of the Ohto Gripper with metal nose cones? (Black grip with a colorful barrel)
Nice! I wasn't aware that Platinum made one of these wide-mouth double-knocks (like Staedtler, Tombow, OHTO, and Niji). Is that MH-120 green color still being made?
It's a shame that these were sold only in Taiwan. Looks like they were discontinued too. Great photo by Kelvin: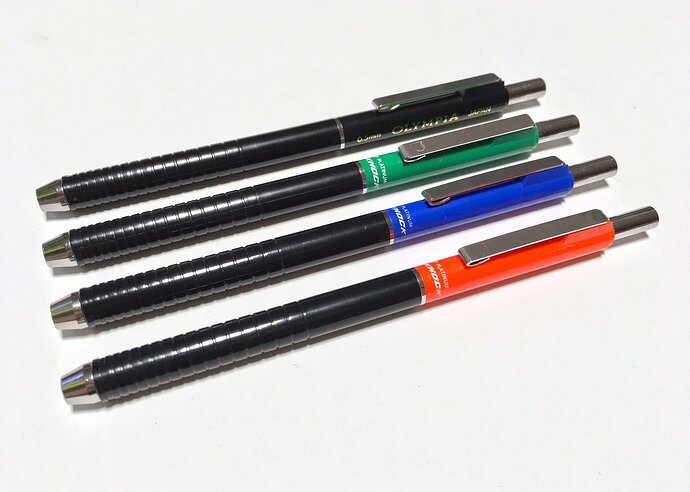 Completely out of topic question here but what is the "colour range" that you own the least pencils? I imagine things like black or white you must own well over 20 so what is the rarest colours, the one you own very few pencils or even a single one?
Yep, just making sure—I think I have every color.
Fairly certain these are out of production, but I've been able to snag every color—black, green, blue, orange, and yellow—from resellers over the past couple years.