Other than the Pentel Orenz Nero and the Pilot Automatic, do we know of any other 0.3mm automatics?
I didn't even know the Pilot Automatic came in a 0.3mm version until last month, so this makes me think there might be an H-5003 out there somewhere, too.
But outside of those pencils, I'm not aware of any other automatic 0.3mms.
Fun follow-up: Is there an automatic 0.4mm pencil? Methinks no. (Yet another reason why 0.4mm is the GOAT.)
Does fit here only 1%, because it is an automatic … But I didn't want to open a new thread for it

Old Porsche Designs (= Faber-Castell at that time) start to increase value, especially the silver version (which is the rarest, but I find the full titan version more interesting & special). Recent auction ended with 660€ Porsche Design 186 W. Germany Metall Mechanical Pencil Feinminenstift Vintage | eBay
It was with box, but with a strange production error. Usually my ebay bids are closer to the end results than at Yahoo, but here I was far off :-o
I have a few PD Classic's and they're honestly my favorite auto - with the TK-matic right there next to them. I was in for a little bit on that silver auction, but didn't care for the defect much and let it go. The last one I saw went for twice what this one ended at.
I also wouldn't care much about the missprint – I was just wondering how this pencil came in circulation. And yes, the PD classics are one of my favorites, too, and I have quite a few (altho only one silver version)

I have to look up what my last observed auction ended with … I read, that the original price of the PDs was ridiculously high, at least in the US, but I have never seen price tags.
Yeah, not sure I've seen original prices and not sure I've seen very many catalog pages except this one that I got from someone at PD. Notice it's got what I believe to be the newer generation MP with the alpha-matic style tip instead of the twist-to-reveal TK pipe style.
This page actually tells a lot with one of each finish style and model numbers shown, including the finish names in the fountain pen description.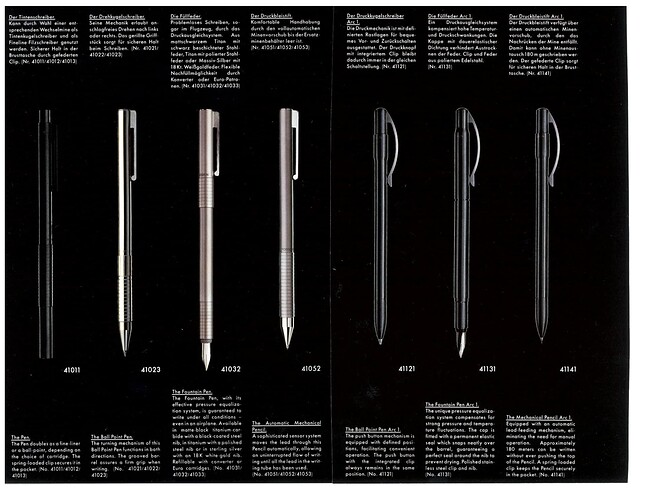 Cool, thanks for the catalogue page. I always was unsure, if there were different Arc1 versions – it seems that this was not the case. Also I had a wrong imagination of the time line: I thought that first there were the Arc1, and then the cylindrical pencil in 2 versions (automatic and twist reveal) and 3 colors. In fact Arc1 and automatic cylindrical pencil were available at the same time obviously, and the twist reveal was before.
I looked up prices – yes, the last silver PD was >1000€. The one before was about the same (630€) as this one, I think I had that one in mind.
PS In the meantime a new thread for PD would have been better. I didn't expect more fans here

In the mid-80s, Shanghai Writing Instrument Research Institute (SWIRI) pre-developed one such MP, but it was not officially produced due to cost and market.

Hey @tfhs! Welcome to the crew!
Looks like you may have hit post before the images were done uploading.
Very cool to know and thank you for the images. They made me realize I've seen this before on Stationery Wiki and would you look at that, they mention 03 too!