I'm wondering if others here have run into this perplexing situation – you see a Yahoo Japan auction listing that you're interested in, and when you load it up in ZenMarket sometimes there's the dreaded message like the one below: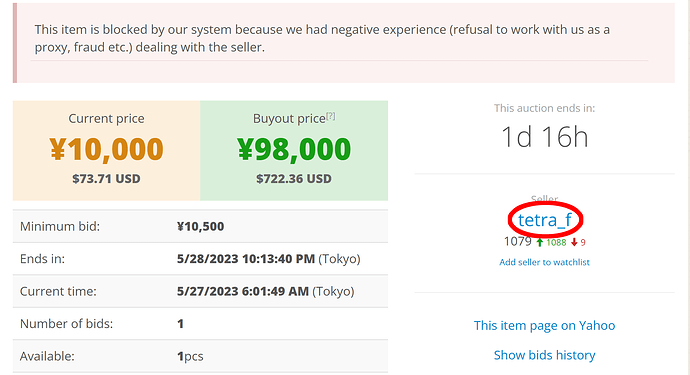 The item is blocked, because ZenMarket had a negative experience with the seller at some point. Now, for the most part, I've found that they're usually right. I've had a few bad experiences with sellers, like either sending the wrong item, or the item is much worse than depicted. One such seller is "This_Is_Distributed_At_Random." I absolutely loathe this seller. They're the worst. And unfortunately, they post so many listings that it's easy to run into them. I wish Yahoo would ban them already. Their ratings are in a slow steady decline, reflecting their bad intentions and poor judgement.
Anyway, I digress. If you look at the image above, you will see that an auction I looked at from "tetra_f" has been blocked. I've bought maybe a dozen of their pencils across the past couple of years. I had only one semi-bad experience. It was a NOS looking pencil, but the lead wouldn't advance and I could never get it to work even after clearing the lead chamber. Anyway, an aberration. But recently I went to look at an item from them–sure enough, ZenMarket has now blocked them.
I've run into this a few times. Actually, even with some sellers that have a good feedback rating on Yahoo Japan. One such seller I discovered was blocked by ZenMarket 2 years ago. Well, I asked them to look at the seller again and perhaps reconsider. They refused. It seems once blocked, they never repeal it.
Anyway, I imagine that one can just go elsewhere, like to Buyee (which I don't like) or From Japan, etc. I do wonder if some of these sellers end up blocked by multiple proxy services.