…Fortnite dance on top of the sweaty collectors I outbid this morning

We're listening. Show us the loot.
Platinum ¥1500 double-knock in red; obviously, another bidder knew how rare this was—I had only ever inferred its existence—but after losing out on a dot-etched Clutch Point earlier, I was all-in on winning the Platinum.
He kept outbidding me, but I identified his breaking point and went for the jugular

Nice score!
The Tum Tum Trip really took the price over the top didn't it?
The "dot etched" is what I'd call this: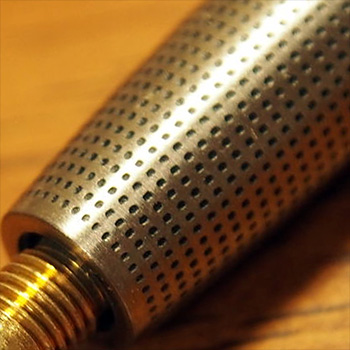 This other one I call "window pane" because it looks like a series of windows on an office building.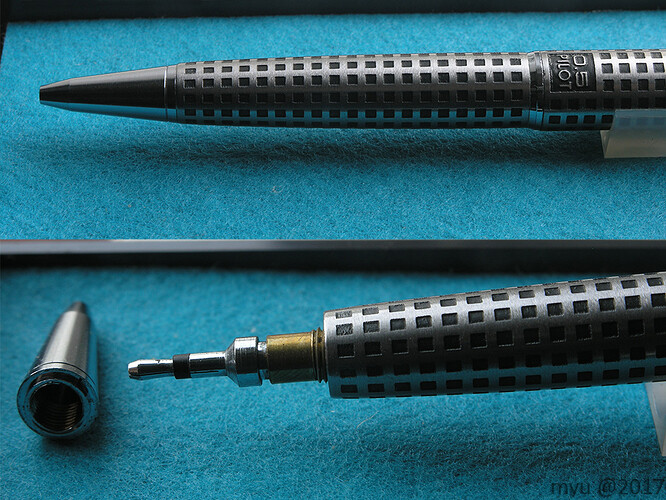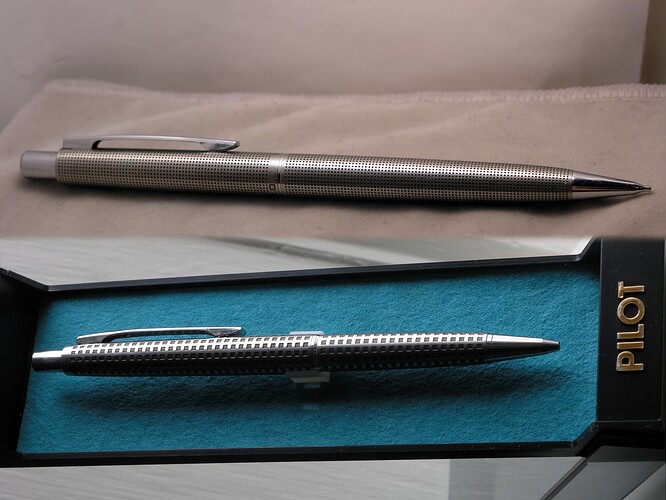 Is the boxed (window-pane) Pilot always clutched or are there 2 variants as for the striped ones?
I think the window-pane pattern is only available as a Clutch Point.
Unfortunately, no. I've seen absolutely zero indication of a standard mechanical pencil version of this one. There's also no ballpoint either.
PILOT has a number of these one-offs. There's a few in the MR series. I've seen the etched dot grid as the most common, but there are a few more that rarely appear. Someone from PILOT knows… but they're retired somewhere, far from forums and social media apparently. I'm still hoping one day there's an employee who comes forward, confesses having either designed or been an industrial engineer that participated in the manufacturing of vintage PILOT mechanical pencils.
Speaking of the PILOT MR series, I spotted this ballpoint… never saw it in a mechanical pencil.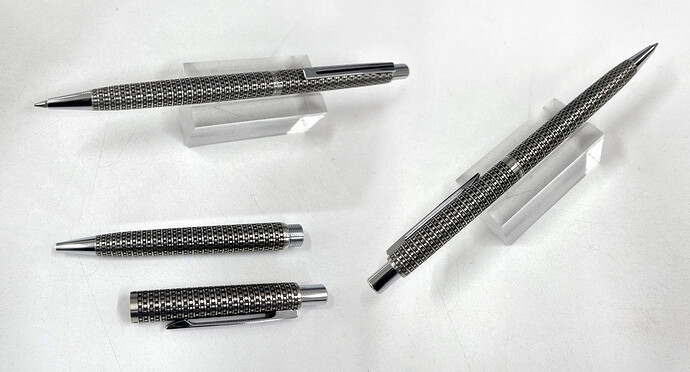 Seller had crappy images, low resolution, so I compiled them into one image.
I feel like I've seen a similar basketweave pattern once before on YAJ, and I thought it was on a mechanical pencil.
Gonna have to start saving images of these outlier pencils, as I'm never quite sure about what I saw whenever these discussions come up!
Is communication with them this bad? As arguably the second most important brand, I expected more.
Yes, there's a basket weave version as well. I've seen it come up twice. Second time it was double the closing price of the first one…
The larger the company, the more difficult it is to make inroads. Case in point, look at what Staedtler did for a pencil enthusiast, sending images of catalogs. PILOT would never do this. Not to criticize them, but firms that large just don't empower that kind of interaction with customers. There's no real financial benefit for them.
It's not Pilot; it's everybody.
We only have a scant few catalogs from 1965–1995 (from any manufacturer). Vintage information—from the people who were part of the process at the time—is almost nonexistent.
Pentel has probably done the best job cataloguing and honoring its history, but even that is full of omissions, oddities, and questions.
I googled because I was surprised about size of companies. Staedtler has nearly double the head count of Pilot

(Staedtler 2300, Pilot 1200).
I've seen the chained BP (7700JPY) and a knotted MP (40500JPY). Both entries are quite recent, I didn't look around for those previously.
They are pretty much the 2nd biggest manufacturer of stationery overall and arguably the first pencilmakers of Europe that exist to this day.
Agreed. It's not about personnel but about annual revenue.
That is true! And amazing …
Sales volume 2021 of Staedtler is ~340'EUR, while Pilot has ~700'EUR (that's even 100' more than FC with 8000 employees!). Revenue of Pilot is also much more stable than of Staedtler. BTW Pentel has <1000 people, financial data I don't know (family company).