yup, sp-5 → sp-10 → sp-15 (garden hose grip) → sp-20 ("classical look", black or blue) → striped look (sp-30?)
Sick. Why do sellers do this? Clearly, one person doesn't need all of them and then it'll be about recouping money by selling off the excess. Seller will likely lose about 50%, than if they'd sold them off in pairs. This is a decent pencil. I have one and I like the action… But I prefer the smooth steel model with the rubberized grip (it's a weird semi-translucent silicone that has etched marks inside, giving an illusion of it being a metalized grip). The material is unlike any other silicone I've come across. It doesn't seem to break down at all. And it's not "mushy," while still giving nice gentle grip as opposed to the nail file feel of knurling.
Would be fun to do a group-buy here. Get 8 people to buy 3 each. Could end up being a really good value.
That 2-f-4 guy is a real thorn in the side. Turns up all over the place on these vintage auctions…
yes, it's unique. at least here most garden hoses are made of this stuff, therefore my comment above for the sp-15.
Thanks, I didn't realize it's the model number SP-15.
Buyer 0-d-3 has had a field day. They won a few high priced auctions, including Faber Castell and these two OHTO auctions.
The SP-30's auction ended up closing at 72,500 JPY ($575 USD). $23 per pencil. Not bad at all. The SP-15's auction ended up closing lower, at 54,000 JPY ($428 USD). $17 per pencil. Excellent.
If one were to buy these for resale, the trick would be offering in multiple channels. These aren't exactly being hunted by a lot of people. The selling on these would be long term, probably taking up to 6~12 months to move them at a reasonable purchase price, like $40 USD. It'll be interesting to see where they turn up.
I wonder if that's Elton from SGP. We'll know if he starts listing those Ohtos on eBay

Does Elton have a history of combing lots like this? Sure looks like SGP on eBay has a steady supply of vintage pencils and pens… which must be coming from places like Yahoo Japan, Mercari, etc. He does have a tendency to mark up his listings quite a lot, with only occasional agreeably priced pencils.
Do you think Elton has a local YJP account, and doesn't go through a proxy?
I've not paid enough attention to bidder names to know the difference. I'm about 99.9% sure I've seen lots on both YAJ and Mercari end up on his eBay account.
Here's a photo of all the Ohto Piston Sharp models.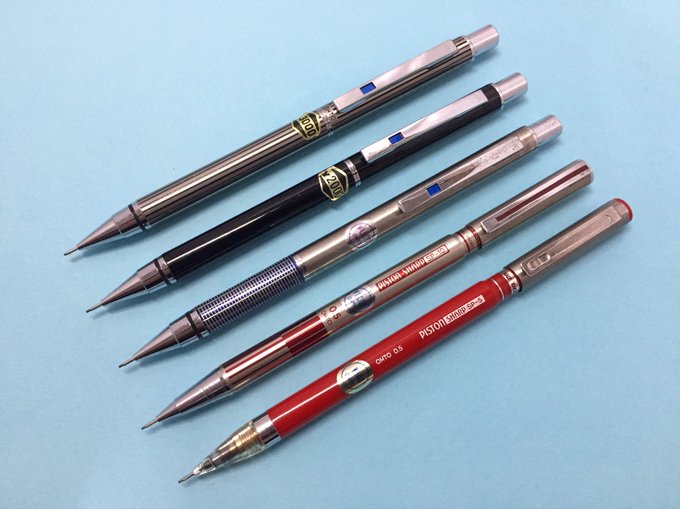 2nd_astronaut was spot on with the model numbers going from SP-5 to SP-30 corresponding to the sticker prices of JPY 500 to 3000.
I have one specimen from each price point, but I still need the red SP-5
It's a shame the tip on the SP-5 is so prone to cracking (every one of these will break under the stress of long-term use)—it's an aesthetically pleasing design.
And the SP-10 is my favorite from the entire series—smaller diameter, cool tip style, and the best knock functionality anywhere.
Those two massive 25 unit batches of the SP-15 and SP-20's were nabbed by the same buyer… and I'm wondering if we'll start seeing some of these get parceled out and with decent prices (seller still makes a good profit, but passes on a lower than market price).
The OHTO pistons are really great pencils. I LOVE that auto-retracting pipe slide. Such a neat feature. My favorite is the SP-15. I just love the grip. Very thin and yet nicely tough with a good texture. And the visual appeal is nice too.
Those clear tips on the SP-5 look really neat, reminding me of some of the old Tintenkuli stylograph nibs made with clear plastic. But, I also once saw an example with the plastic having cracks running through it. I wonder how well it holds up over time…
Those clear tipped Pistons are just tragic. No one imagined they would be cherished 4 decades on. I have one clear green and one clear brown, and the brown is developing cracks. Too painful to want to obtain more of them.
It's the same reason why I couldn't get myself to invest in a Micromatic 777. Xiao had explained to me that the mechanism is fragile and when it breaks… forget about trying to fix it.
The main problem is that the 777 was intended for use at a vertical angle (this is seen on patents) but of course people wouldnt use it that way. The result is that any model that is not NOS is very likely to be broken. Not all hope is lost, I have read reviews from a few Chinese collectors that have working models since they use it vertically, but a constant complaint is the issue of the mushy cushioned tip.
I believe that if someone sent a request to STAEDTLER asking for a spare mechanism, they'd send it if they had it (which is an one in a million chance).
seller seems to have found an old auto/ohto storage, if i look thru the auctions …